A chance to high five all the ladies!
International Women's Day
I'm Rachel. It's only been in the last couple of years that I realised that all the bands and music I grew up listening to and loving, was created and sung by men, from their perspective.
I've always been an equalitarian, believing that any disparity between men and women should be done away with, but hadn't recognised the lack of female influence in the music I love.
The diversity of music Primordial play has changed that and I have become more familiar with bands such as Jinger, Hawx and Nova Twins. It makes me proud to see these ladies breaking down barriers in the music industry and kicking ass!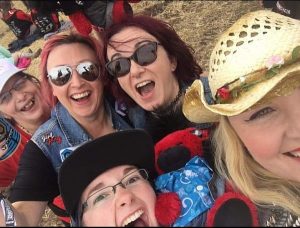 Since the creation of Primordial Radio, I have met and befriended so many amazing, strong, capable women.
We have helped each other through so much and really are there for each other.
Having previously been wary of other ladies, I now have a friendly and supportive group of women I can call upon for advice and shared experiences and lend support to.
I guess I see IWD as a chance to high five all the ladies, keep going, stay strong and big each other up and be awesome to each other!
Looking forward to sipping girlie green things at Tom's Tap as soon as we are able!