Published in Station Updates, on Wednesday, August 12th, 2020
As seen on the Primordial Radio Podcast
We're delighted to announce that Luke Milne will be joining the Primordial Radio team.
Luke joins us having a wealth of experience on stations such as Rhino Radio & HRH Radio, he's also a freelance writer for Metal Hammer and a radio plugger for Incendia PR.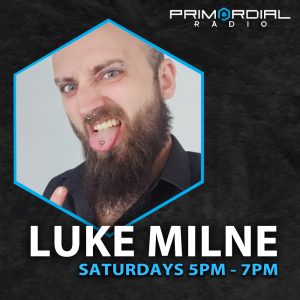 "I'm Luke and I am Primordial. I don't have a nickname, so feel free to make some up for me and I'll use a different one each week.
I've been around the music media scene for about 10+ years in different roles, from a club DJ and gig booker/promoter to journalist, radio presenter and, most recently, a music publicist. I've got some weird, crazy stories to tell (for instance, inadvertently and quite innocently causing a minor bomb scare at a music venue) but we have plenty of time for that.
Loves whiskey, video games and quality time spent with good friends. Dislikes spiders and poo. Owns a pair of Nicolas Cage trousers (as seen on Wish) and a rubber horse head mask (as seen on horses). If you see me wearing either, you should probably run."
Not a member of Primordial Radio ? Why not give it a go , free, for 3 months, no credit card/no obligation/no nonsense
Sign Up Here
Primordial Radio playing the best and latest in Rock, Metal and Beyond music – Radio as it should be !