Special Machine Head Guest on FAMily Album
Published in Gigs & Events, Station Updates, on Thursday, September 17th, 2020
Robb Flynn of Machine Head on Primordial Radio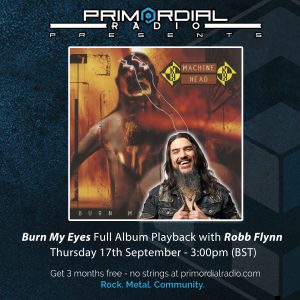 We have an absolute treat for you today, Robb Flynn of Machine Head is on this week's FAMily Album with Pete & Hackett to play Burn My Eyes IN FULL.
Robb will be chatting all around the tracks from the Machine Head album, how it came together in the early 90's, looking at the original lyrics to Davidian and revisiting the album for the 25th anniversary.
A very special listen, tune in from 3pm 17th September 2020.
What is the FAMily Album Podcast ?
We occasionally play an album in full here at Primordial Radio, but every now & then we'll hand the album choice over to YOU and get you on-air to have a chat about it.
Want even more Machine Head on your favourite Rock and Metal Station ?
Check out Robb chatting with Primordial Radio about the importance of small venues and the role they played in giving Forbidden, Vio-lence & Machine Head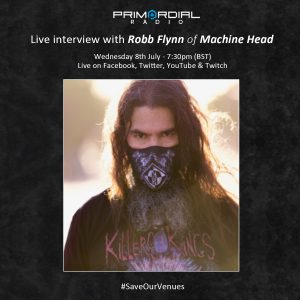 Listen or watch Robb Flynn from Machine Head on Primordial Radio
Not a member of Primordial Radio ? Try us for free for 3 months! No Card Details Needed. No Obligation. No Nonsense. Primordial Radio - Rock. Metal. Community
Sign Up Here