2000 Trees Festival has made its first major announcement for 2023 with Frank Carter & The Rattlesnakes confirmed as a main stage headliner, also on the bill is The Wonder Years, Hundred Reasons, Loathe, Ithaca, Press Club, No Devotion + More.
Full list of announced bands for 2000 Trees Festival so far:
Frank Carter & the Rattlesnakes (Saturday main stage headliner)
Hundred Reasons
Rival Schools
The Wonder Years
Bob Vylan
Loathe
Holding Absence
Pitchshifter
Cancer Bats
And So I Watch You From Afar
Joyce Manor
Crows
Dream State
Aaron West and The Roaring Twenties
Sprints
Microwave
Svalbard
The Chisel
Press Club
No Devotion
Chubby & the Gang
Saint Agnes
Ithaca
The St Pierre Snake Invasion
Lambrini Girls
Koyo
Press to MECO
Big Spring
Spielbergs
The Oozes
The Scratch
Dead Pony
July Jones
Heart Attack Man
THICK
Mint
Delilah Bon
Enola Gay
Ways Away
Delaire The Liar
Pet Needs
Gurriers
Chastity
SNAYX
Hypothetics
2000 Trees Festival 2023 Tickets
July 2023
05 – 08 – Cheltenham, Upcote Farm
Primordial Radio is supported by the community we serve. We may earn an affiliate commission when you buy through links on our site.
For our full list of affiliates, head here.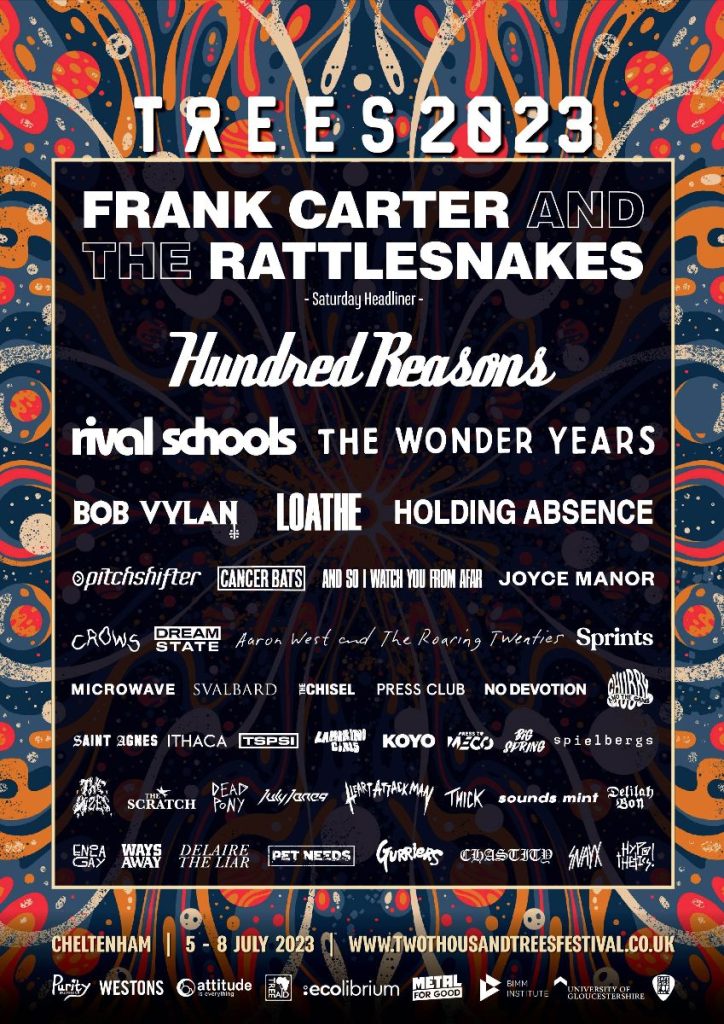 We went to 2000 Trees Festival 2022 and had the best time. Check out our highlights video featuring the likes of Bob Vylan, Holding Absence, Vukovi and more.
Get Primordial Premium
30 Days Free. No Auto-Renewal. No Credit Card Needed.
- 24/7 Rock & Metal Radio Station
- No Adverts
- Exclusive Merch & Discounts
- Exclusive Articles & Podcasts
- Thriving Community