Pride of Primordial Tartan
Tartan has featured in the music scene for quite a few years now from the Bay City Rollers to Rod Stewart, through the punk rock era,  the rock music genre with the likes of to Guns 'n' Roses & AC/DC and now with the Pirate and Viking metal bands!
So what better what to show your support (and exceptional good taste) for one of the best Rock and Metal Radio stations than getting some Pride of Primordial tartan merchandise.
Designed by Primordial's very own Juls and officially registered in March 2018 in The Scottish Register of Tartans, our Primordial tartan is produced at Ingles Buchan, a family-owned firm and mill based in Scotland.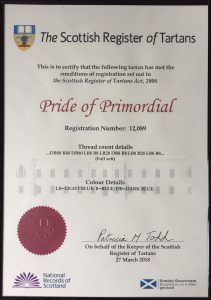 Our very own rock and metal tartan is woven into super soft lambswool for scarves and blankets as well as a medium weight cloth from which we provide cufflinks, ties and also lengths of material for you to buy and create your own Pride of Primordial tartan items.
The Pride of Primordial tartan product range is now available!

!
Hey there, it looks like you are not subscribed to Primordial Radio. Did you know you get 10% off this lovely merch if you sign up. You can register for a 30 day free trial or if your subscription has expired you can renew your subscription.