A Metalcore Special with Bury Tomorrow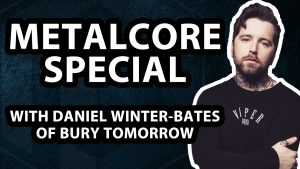 Welcome to this Metalcore Radio Special with Daniel Winter-Bates of Bury Tomorrow. In this special, Dani speaks to Pete Bailey about how he was first introduced to metalcore, where the genre is at today and also plays his all-time favourites including the likes of Killswitch Engage, As I Lay Dying, Unearth and more!
Bury Tomorrow are a British metalcore band formed in 2006 in Southampton, Hampshire, England. The band is composed of five members; lead vocalist Daniel Winter-Bates, rhythm guitarist and singer Jason Cameron, bassist Davyd Winter-Bates, drummer Adam Jackson and lead guitarist Kristan Dawson, who replaced founding guitarist Mehdi Vismara in 2013. Bury Tomorrow have released six studio albums, their most recent being Cannibal, released on 3 July 2020.

You may also like