The Primordial Radio Big Bang
So, what is the Primordial Radio Big Bang ?
A sort of Birthday/good excuse for everyone to get together for a few beers and a catchup after the madness of the Rock and Metal Music Festivals in the summer.  Organised by Mark Manby and hosted by OGRI MCC, everyone is welcome to pop along, have a drink, watch some bands and go "ooooohhhhhhh, aaaaahhhhhhhh" at the fireworks (maybe) !
2022 – The Big Bang 4 –
without a cheesy tagline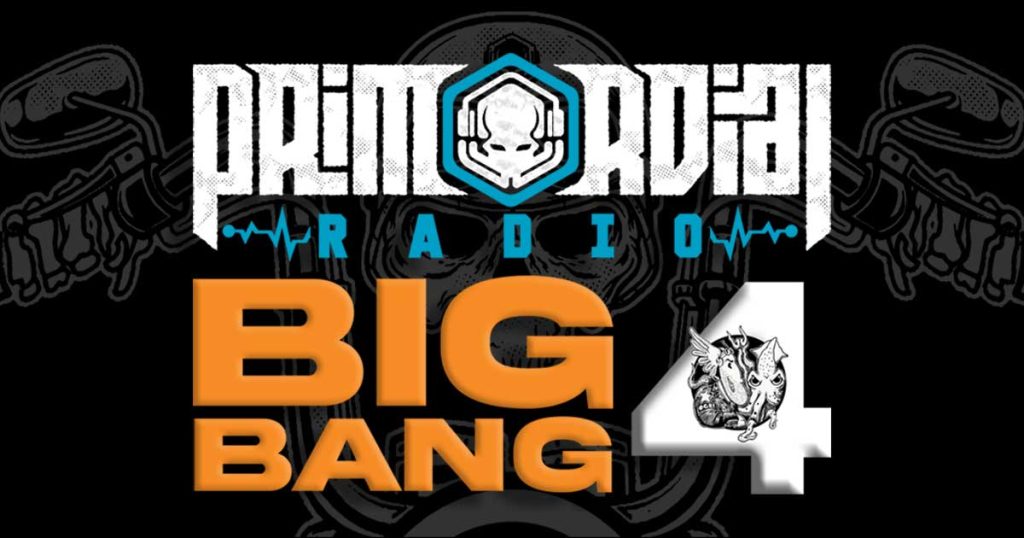 Primordial Radio is very excited to be bringing back the Big Bang to the OGRI MCC Clubhouse on Friday 16th and Saturday 17th September 2022.
In the same vein as the biking world, the Big Bang isn't just about the music, it's the active community behind the station that makes it unique.
The hosts for the Big Bang weekend OGRI MCC have knocked up a quick writeup if you missed it, and there are plenty of tales and pictures in the #prfam Facebook group!
2019 – The Big Bang 3 – ménage à trois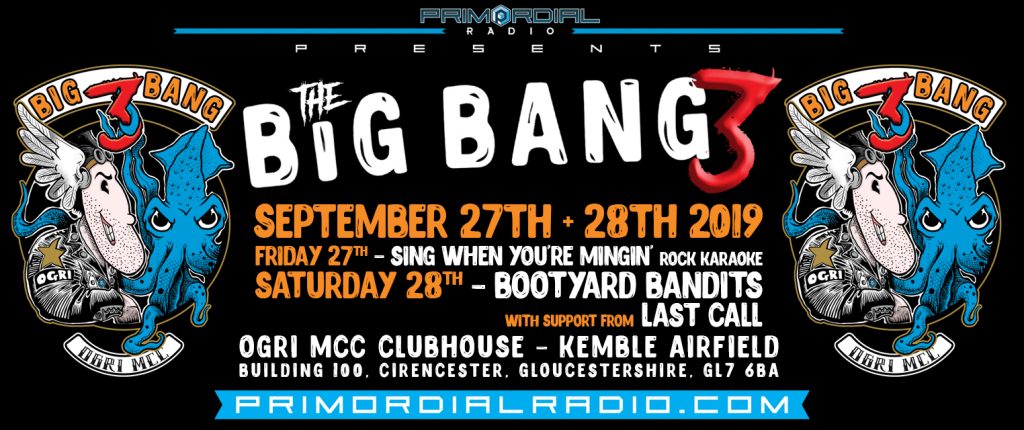 Taking place 27 & 28th September at OGRI MCC, near Cirencester
OGRI MCC Big Bang 3 writeup available here and the Big Bang 3 Podcast – that wasn't
Friday – turn up from 12:00 onwards, get your tent/camper/yurt setup and have brew/beer and a catch up with old friends and maybe make some new ones! A new thing for Friday is a  "Sing While You're Mingin'" Rock Karaoke.
Saturday more of the same with extra tunes from the bands headlining are the Bootyard Bandits with 'Last Call' in support
Spike is back with the Victory Snack bar to make sure you are suitably fed over the weekend and the OGRI bonfire will be keeping you toasty into the wee small hours. Sorry no fireworks this year due to #reasons (not OGRI's  fault!)
Camping Included – No Booking Fee
and no Primordial Radio event would be complete with a pre-order only Big Bang 3 T-shirt ! Evil Genius Matt has worked his magic again …..

Want to see what you have missed out on ?
2018 – The Big Bang 2 – The Second Coming
Check out the Primordial Radio Big Bang 2 Podcast….and OGRI did a little write up over on their website
2017 – The First Big Bang
The initial Big Bang writeup from OGRI MCC or take a listen to the podcast, recorded live