#prfam designed merch alert!
It's been a while, but there is new #prfam designed merch available !
The designs have been created by Vikki Colden, our first lady #prfamdesigned designer !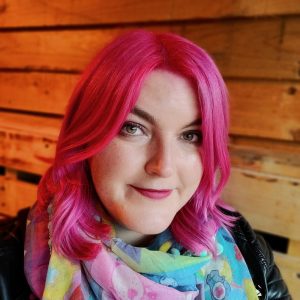 Hey I'm Vikki Colden, bright haired, graphic design, rock and metal, pizza loving horror fan. I run my one lady design studio, BCR Creative from sunny Birmingham, where I live with hubby Chris and my two fluffy devil cats Suki and Maia.
After a decade of corporate work, I set up on my own, inspired inpart by the Primordial Radio team to carve my own path and be in charge of my own destiny. Gulp.
I love Primordial Radio and am honoured to be part of behind the scenes, and now get some merch out there for my fellow cul… ehhem… PRFam members to fly the flag when out and about. I wanted to create a design that had a bit of intrigue/in joke to it, whilst using an abstract brutalist style I've always really loved.
Photo was taken by me at one of my most favourite gigs in recent years, a few of the PRFam were there with us, a beer to the first person to tell me the gig!
Hope you like the design! If not, you know what to do. 😉
Big loves, Vik.
The new merch design comes in two colours, black and white as well as a variety of t-shirt styles, long sleeves, hoodies, some with back print, some with front print !
Available for 60 days only, hit up the #prfam designed section in yoru favourite Rock and Metal Radio Merch Store !