Bloodstock Festival has added nine new bands to its lineup including In Flames, Anthrax, Sepultura and Ugly Kid Joe.
Swedish melodic death metallers In Flames will play on the special guest slot on the Ronnie James Dio main stage on Friday, August 11, with big four thrash legends Anthrax taking up the same slot evening slot on Saturday, August 12. Sepultura and Ugly Kid Joe will take to the main stage on Sunday, August 13.
Bloodstock Festival 2023 Tickets
August 2023
10 – 13 – Derby, Catton Hall
Primordial Radio is supported by the community we serve. When you buy through links on our site, we may earn an affiliate commission.
For our full list of affiliates, head here.
Also added to the bill is Whitechapel, Biohazard, Nonpoint, Finns Trollfest, and Church Of The Cosmic Skull.
They joined the previously announced Megadeth and Killswitch Engage who will headline Bloodstock festival in 2023 with Zeal & Ardor will headlining the Sophie stage on August 12.
Also appearing across the weekend is Devildriver, Fit For An Autopsy, Knocked Loose, and Gatecreeper.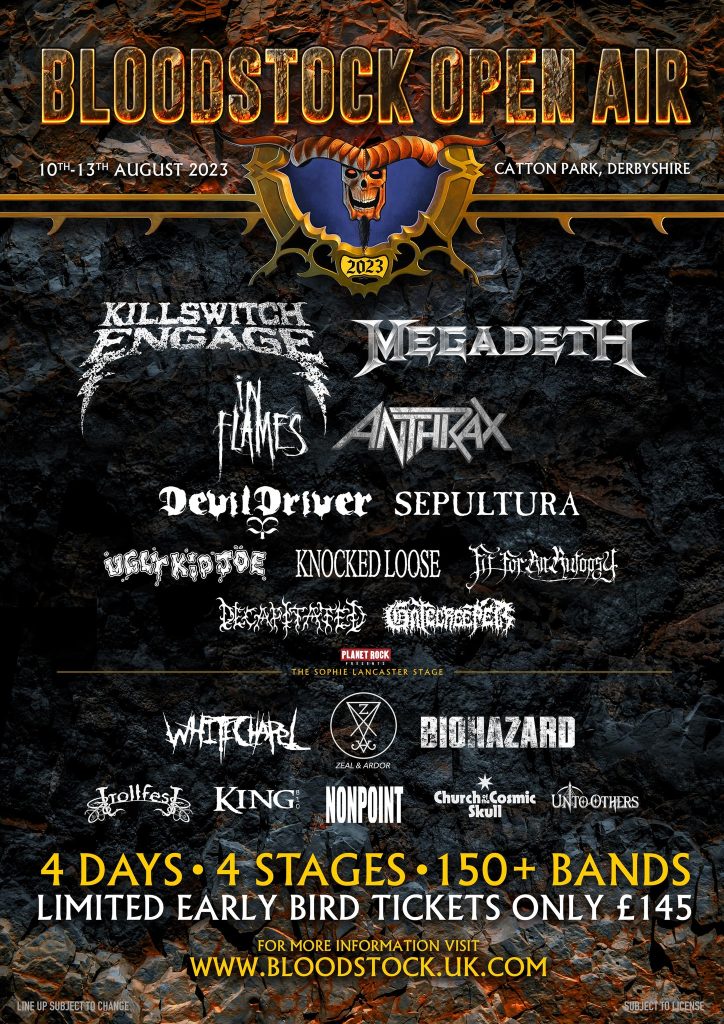 We went to Bloodstock Festival 2022 and despite the heatwave, had the best time. Check out our highlights video featuring the likes of Jinjer, Bloodywood, Behemoth and more.
Get Primordial Premium
30 Days Free. No Auto-Renewal. No Credit Card Needed.
- 24/7 Rock & Metal Radio Station
- No Adverts
- Exclusive Merch & Discounts
- Exclusive Articles & Podcasts
- Thriving Community