Catchup on The Plaguecast Podcast
Published in Station Updates, on Saturday, April 25th, 2020
Episode Five is available now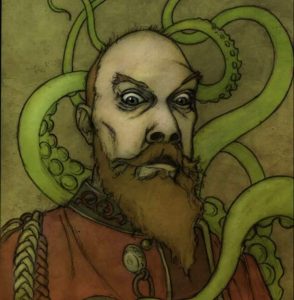 Dr. Cornelius Porridge is an egg-enigma covered liberally with the sausage of mystery, glazed in the egg of absurdity and dipped into the breadcrumbs of the macabre.
Part time-travelling scotch egg, part-badger, part steampunk stand-up.
Any similarity to any other franchises as Dr. Porridge raids the lost ark of the component any entirely coincidental. Ahem.
Caution advised: The following broadcast may not be suitable for those possessed of a nervous disposition, or indeed good taste.
Dr. Cornelius Porridge is an enigma. Part time-traveller, part-badger, part steampunk stand-up.
In these troubled times he has kindly agreed to keep us updated daily on the plague situation in his native Lincolnshire.
This plaguecast is the collection of those daily dispatches. Kind of like an Eastenders omnibus, only with more innuendo.
If you'd like to find out more about the individual known as Dr Cornelius Porridge – you can check him out on Facebook
Credit to Tom Brown for the artwork
Don't forget that as a Primordial Radio member you can access ALL of our podcasts including our BRAND NEW mental health-themed podcast; Metal Health, Crofty's Tracks featuring Sky Sports F1 commentator David Croft and The Sea Word with the world's ONLY heavy metal marine biologist; The Blowfish via our new mobile app!
Available now via the Apple app store and Google Play
Not a member of Primordial Radio ? Why not give it a go , free, for 3 months, no credit card/no obligation/no nonsense
Sign Up Here
Primordial Radio playing the best and latest in Rock, Metal and Beyond music – Radio as it should be !