Download Festival has announced 44 new names joining the line-up, as well as the day splits for its 2023 mammoth line-up.
New names include Halestorm, Alter Bridge, Neck Deep, Bob Vylan, Carcass, Five Finger Death Punch, Jinjer, Coheed and Cambria, Electric Callboy, Hot Milk and The Amity Affliction.
Download Festival Announces Over 40 Bands
A.A. WILLIAMS
ALTER BRIDGE
ANTISAINT
AVATAR
BAD WOLVES
BEAUTY SCHOOL
BOB VYLAN
CARCASS
CARPENTER BRUT
CASKETS
CLEOPATRICK
CLUTCH
COHEED AND CAMBRIA
DEAF HAVANA
DINOSAUR PILE-UP
ELECTRIC CALLBOY
EMPIRE STATE BASTARD
EPICA
FEARLESS VAMPIRE KILLERS
FIVE FINGER DEATH PUNCH
GREEN LUNG
GREG PUCIATO
HALESTORM
HATEBREED
HOT MILK
ICE NINE KILLS
JINJER
JOEY VALENCE & BRAE
MAMMOTH WVH
MIMI BARKS
MOM JEANS
NECK DEEP
PALAYE ROYALE
PERTURBATOR
PUP
SMASH INTO PIECES
SPIRIT ADRIFT
TAIPEI HOUSTON
THE AMITY AFFLICTION
THE BRONX
THE HU
THE WARNING
TIGRESS
UNDEATH

Get Primordial Premium
30 Days Free. No Auto-Renewal. No Credit Card Needed.
- 24/7 Rock & Metal Radio Station
- No Adverts
- Exclusive Merch & Discounts
- Exclusive Articles & Podcasts
- Thriving Community
Download Day Splits
THURSDAY
METALLICA
A.A. WILLIAMS, ALTER BRIDGE, CASKETS, FEARLESS VAMPIRE KILLERS, FIVE FINGER DEATH PUNCH, HALESTORM, JINJER, MAMMOTH WVH, MIMI BARKS, MOM JEANS, PERTURBATOR, THE BRONX, TIGRESS.
FRIDAY
BRING ME THE HORIZON
ARCHITECTS, AS DECEMBER FALLS, ASKING ALEXANDRIA, AVIVA, BRUTUS, CARPENTER BRUT, CRAWLERS, ELVANA, EMPIRE STATE BASTARD, EPICA, EVANESCENCE, FIXATION, GWAR, HOT MILK, INGESTED, NECK DEEP, NOVA TWINS, PENDULUM, PUP, PUPIL SLICER, SMASH INTO PIECES, STAND ATLANTIC, TAIPEI HOUSTON, THE BLACKOUT, THE WARNING, UNDEATH, VV, WITCH FEVER, WITHIN TEMPTATION
SATURDAY
METALLICA
ALEXISONFIRE, ANTISAINT, BAD WOLVES, BAMBIE THUG, BEAUTY SCHOOL DROPOUT, BLACKGOLD, BOB VYLAN, CARCASS, CLUTCH, COHEED AND CAMBRIA, DEAD SARA, DEAF HAVANA, DISTURBED, ENOLA GAY, FEVER 333, GREG PUCIATO, ICE NINE KILLS, KID BOOKIE, KID KAPICHI, LAKE MALICE, MONUMENTS, MOTIONLESS IN WHITE, MUNICIPAL WASTE, nothing,nowhere., PLACEBO, POLARIS, SIMPLE PLAN, SPIRIT ADRIFT, STRAY FROM THE PATH, THREE DAYS GRACE
SUNDAY
SLIPKNOT
AVATAR, BEAUTY SCHOOL, BEHEMOTH, BLIND CHANNEL, BLOODYWOOD, CLEOPATRICK, CRASHFACE, DINOSAUR PILE-UP, ELECTRIC CALLBOY, GHOST, GRAPHIC NATURE, GREEN LUNG, HATEBREED, HAWXX, I PREVAIL, JAZMIN BEAN, JOEY VALENCE AND BRAE, LORNA SHORE, MOD SUN, PALAYE ROYALE, PARKWAY DRIVE, SET IT OFF, SiM, SOEN, SOUL GLO, TAYLOR ACORN, TERROR, THE AMITY AFFLICTION, THE DISTILLERS, THE HU, THE MEFFS, TOUCHE AMORE
Download Festival Tickets
Bring Me The Horizon, Metallica, Slipknot + more.
June 2023
08 – 11 – Donington Park, UK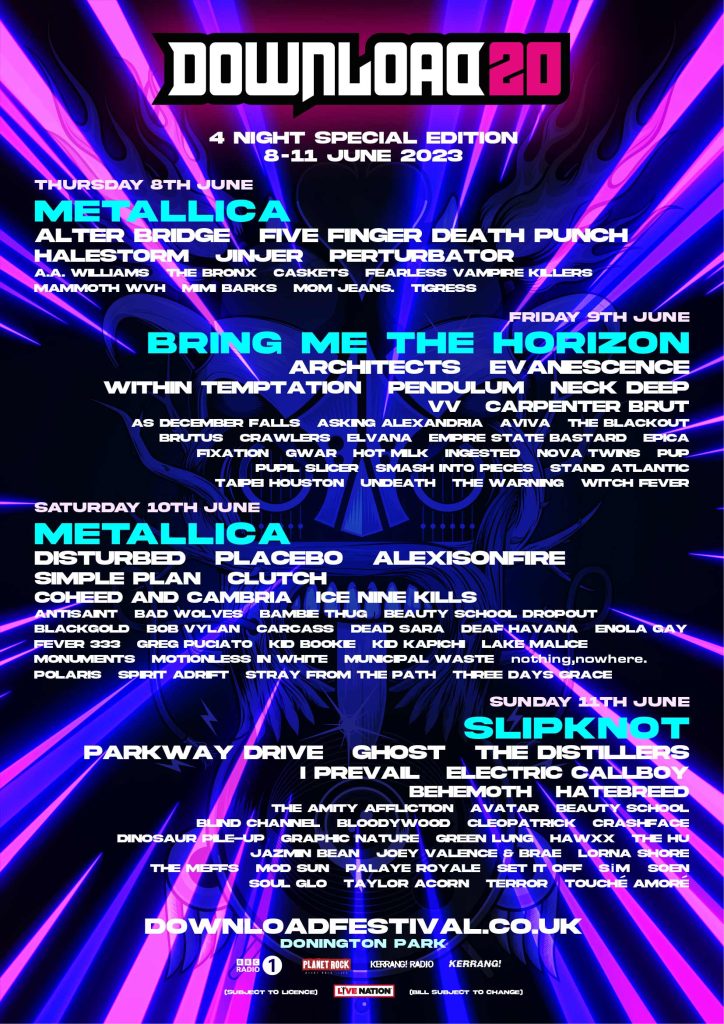 Download Festival's Andy Copping said:

This year marks a huge milestone for Download, celebrating the incredible 20 years of the festival is no small feat. We really wanted to up the ante for this special anniversary, adding an extra day for the fans to experience the unforgettable lineup, that once again brings together unparalleled talent from the rock music world back to Donington Park!"
We may earn an affiliate commission when you buy through links on our site. This helps support the station. For our full list of affiliates, head here.