Celtic Punk Rockers Ferocious Dog were recently interviewed by the BBC and explained in detail the stark reality of how expensive it's becoming for bands to tour.
Violinist Dan Booth states:
Just to give a bit of perspective – Supporting Flogging Molly on the 2 Poland dates cost us over £6k.

This was due to flights, hiring a backline for two dates, mini bus and driver and more besides. Hope this helps bring some clarity of how things are at the moment.

Add to that, carnet (export/import documentenation) costs due to Brexit makes touring costs absolutely ridiculous.

Once you get to Dover they take you away for about an hour and they get your carnet stamped.

Nine times out of ten, they don't even look at what's on the bus and it adds time onto your journey.

Due to Covid, everybody is back touring. Everything that is available is more expensive.
Ferocious Dog also stated their touring costs included:
Hiring of backline (Drums & Amps) – About £800 for two gigs.
Mini Bus and fuel – Over a thousand pounds easily for two days
Cost of carnet – Because of Brexit it's costing us £890
Emission zone costs
Tolls – Especially in France, we could spend £80 going from one city to the next
GMR (Goods Movement Reference) – Every border we cross, because we aren't in the EU, we are paying £50 for each border cross.
Tax on all merchandise – Something we never had to do before: we pay VAT on every item before we go out.
Ferocious Dog has postponed and rescheduled their 2022 shows in Hamburg, Berlin, Cologne, Aschaffenburg and Munich. They currently have several shows in the Netherlands booked for the first quarter of 2023.
They plan on combining the rescheduled dates with the shows in the Netherlands to form a short European tour and also have dates booked in the UK throughout 2022 and into 2023.
Grab Your Tickets To See Ferocious Dog
Multiple Dates in 2022 and 2023
We recently spoke to vocalist Ken Bonsall and bassist Nick Wragg from  Ferocious Dog at Bloodstock Festival, watch the interview below.
Content Warning – the interview contains content about suicide and depression.
Get Primordial Premium
30 Days Free. No Auto-Renewal. No Credit Card Needed.
– 24/7 Radio Station
– No Ad-Breaks
– Exclusive Discounts On Gigs & Merch
– On-Demand Shows & Podcasts
– Thriving Community
---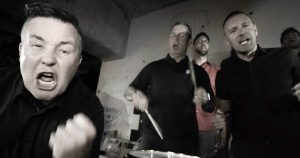 Links in this article may contain affiliate links where Primordial Radio receives a commission if you make a purchase through these links.
For our full list of affiliates, head here.