Happy Birthday to us ! Birthday Beers in Birmingham
Published in #prfam, Station Updates, on Saturday, September 29th, 2018
GOOD LORD! One week today we'll be celebrating one year of Primordial Radio !
We know what you're thinking… how has Dewsbury talked about badgers for an entire year? We're equally as impressed.
Which is why we would love for you to come to celebrate our first birthday on Saturday 6th October at Subside Bar in Birmingham – See ya there!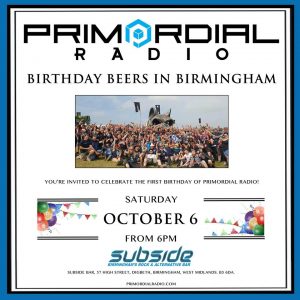 Not a member of Primordial Radio ? Why not give it a go , free, for 3 months, no credit card/no obligation/no nonsense
Sign Up Here
Primordial Radio playing the best and latest in Rock, Metal and Beyond music – Radio as it should be !