Just in time for Christmas – merch dump news !
Published in Station Updates, on Tuesday, October 2nd, 2018
Everyone loves a great merch dump and one is coming very soon coincidentally timed for Christmas
Our Primordial elf (aka Jo) has been busy making plans on how to elasticise the shed in anticipation of tartan scarves, blankets, and teddy bears plus the arrival of some new items from the Evil genius Matt Young of MyOhMy design
Oh, and for those who steadfastly refuse to do white we're offering #notacult in default colour – check out the new zoodie, coming soon to a shopper near you
For any of you that just cannot wait for the biggest dump of our time, we have a new patch coming soon, a #notacult patch. Have a look at the nice picture, don't try clicking it to buy though, it doesn't link anywhere, the patch isn't in the store yet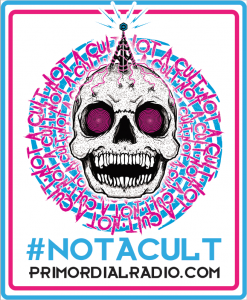 Not a member of Primordial Radio ? Why not give it a go , free, for 3 months, no credit card/no obligation/no nonsense
Sign Up Here
Primordial Radio playing the best and latest in Rock, Metal and Beyond music – Radio as it should be !