Knotfest Tickets on sale !
Published in Gigs & Events, Primordial Affiliates News, Station Updates, on Thursday, January 16th, 2020
Want a KnotFest ticket ? Want to help support Primordial Radio at the same time ?
Our friends over at Gigantic have just released tickets for Knotfest !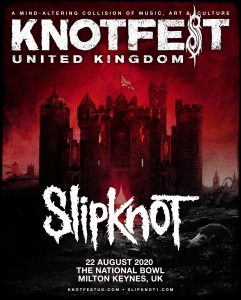 KNOTFEST, the music and lifestyle phenomenon created by multi-platinum, genre defining metal band, SLIPKNOT, will once again make history in 2020 with the first ever KNOTFEST UK.
The event will take place at legendary venue, The National Bowl, Milton Keynes on August 22nd 2020.
Grab your tickets over at Gigantic now – you pay exactly the same as everyone else but Primordial Radio gets a few pennies as well !
Not a member of Primordial Radio ? Why not give it a go , free, for 3 months, no credit card/no obligation/no nonsense
Sign Up Here
Primordial Radio playing the best and latest in Rock, Metal and Beyond music – Radio as it should be !