Long Road to Brewin' IV
Rescheduled Dates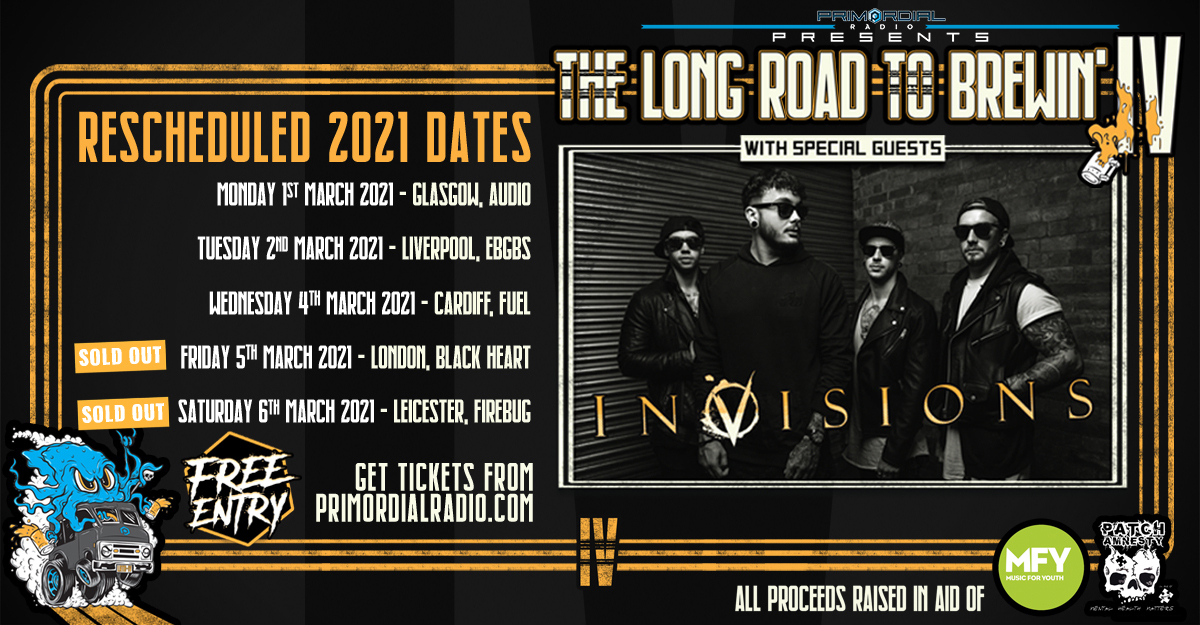 Due to the ongoing situation in relation to the Coronavirus disease (COVID-19) Primordial Radio sadly has to postpone the fourth edition of the Long Road To Brewin' with InVisions that was due to take place in September 2020.
We are now very pleased to announce that these dates have been rescheduled for March 2021.
As we continue to feel the impact from the pandemic, we are committed to make sure that when these shows do take place they can do so in a safe environment, nothing is more important to us than your safety.
We also recognize the extremely difficult circumstances small venues have found themselves in and implore you to check out the Save Our Venues campaign from the Music Venue Trust – https://saveourvenues.co.uk.
All purchases for the original dates will be honoured and if you are unable to attend the new dates, you can find details on how to claim a refund below.
Tickets – https://primordialradio.com/invisionsbandtour
FAQ's – https://primordialradio.com/lrtb
Refunds – https://www.primordialradio.com/lrtbrefund
Charity donation required for free ticket
Non-Primordial members receive a 3-month trial (no strings attached) as part of their ticket
Various age ranges for shows, please check before booking
March 2021
Monday 1st March – Glasgow (Audio)
Tuesday 2nd March – Liverpool (EBGB'S)
Thursday 4th March – Cardiff (Fuel)
Friday 5th March – London (The Black Heart) *SOLD OUT*
Saturday 6th March – Leicester (Firebug) *SOLD OUT*
Thank you for your continued support of Primordial Radio, without you we wouldn't be here, and we look forward to seeing you in March 2021.  
Don't miss your opportunity to meet with like-minded people who want to change the rock and metal radio landscape in the UK.
Primordial Radio's Music Director; Pete Bailey –
"To think that this is going to be our fourth Long Road To Brewin' is crazy enough but to be able to bring the monstrously heavy and insanely catchy InVisions on the road with us raising money for Patch Amnesty & Music For Youth is just IMMENSE. This is what Primordial Radio is all about; great music, awesome causes and a damn good time. See you on the road!"
• Charity donation required for free ticket
• Non-Primordial members receive 30-Day Free trial (no strings attached) as part of their ticket
• Various age ranges for shows, please check before booking
Primordial Radio www.primordialradio.com
Primordial Radio is a premium rock and metal radio station free from regulation and advertising that reflects a true rock and metal environment. In 2017, Moose, Dewsbury, Pete Bailey and Engineer Mark said, "Fuck that" and decided to flip the existing radio model on its head and successfully raised £285,000 from 1300 investors across the UK rock and metal community to launch the station which now has 1700+ members.
Metalcore newcomers InVisions spawned into being in 2016 from the ashes of former local bands in their hometown of York, England. Adrenaline-fuelled and so-called "cataclysmically heavy", InVisions are driven by a collective ambition to create their own heavy-hitting yet anthemic sound that nods to old school thrash whilst retaining a fresh and modern perspective.
Within a matter of days, the band had entered the studio to record their debut single 'Unbreakable' with founding members Ben Ville, Lucas Gabb and Alex Scott. A short while later they recruited drummer Josh Hardy to complete the line-up and dive headfirst into their debut self-released album 'Never Nothing', released August 2017.
Since the release of Never Nothing, InVisions have since returned to work with producers Sam & Joe Graves at Innersound Audio (Asking Alexandria, Eyes Set To Kill, Glamour Of The Kill) on their standalone single 'Parasite'. InVisions show no sign of slowing down and in 2018 signed to Stay Sick Recordings (Fronz – Attila) and released their sophomore album 'Between You & Me' in February 2019.
Patch Amnesty is the brainchild of PRfam member Michael Lacy. Michael collects unwanted patches and sells them at events to raise money for mental health charities. If you have any patches you wish to donate to his cause, please feel free to bring them along. You may even find a selection of patches to add to your battle jacket, so say hello to Michael on the night and grab a patch as all sales go towards a wonderful charitable cause.
Established in 1970, our mission is simple: we believe that music, and the chance to participate in high-quality musical activities, should be open to every young person.
Music for Youth is about nurturing not only the next generation of musical talent, but the next generation full stop. Whether you're a violinist, or beatboxer, a young person who's never had the chance to experience live music, or the leader of a primary school choir just starting out, we have something for you, or for the young people you work with. We pride ourselves on being open, accessible, and welcoming, so don't be shy.