Long Road to Brewin' 2021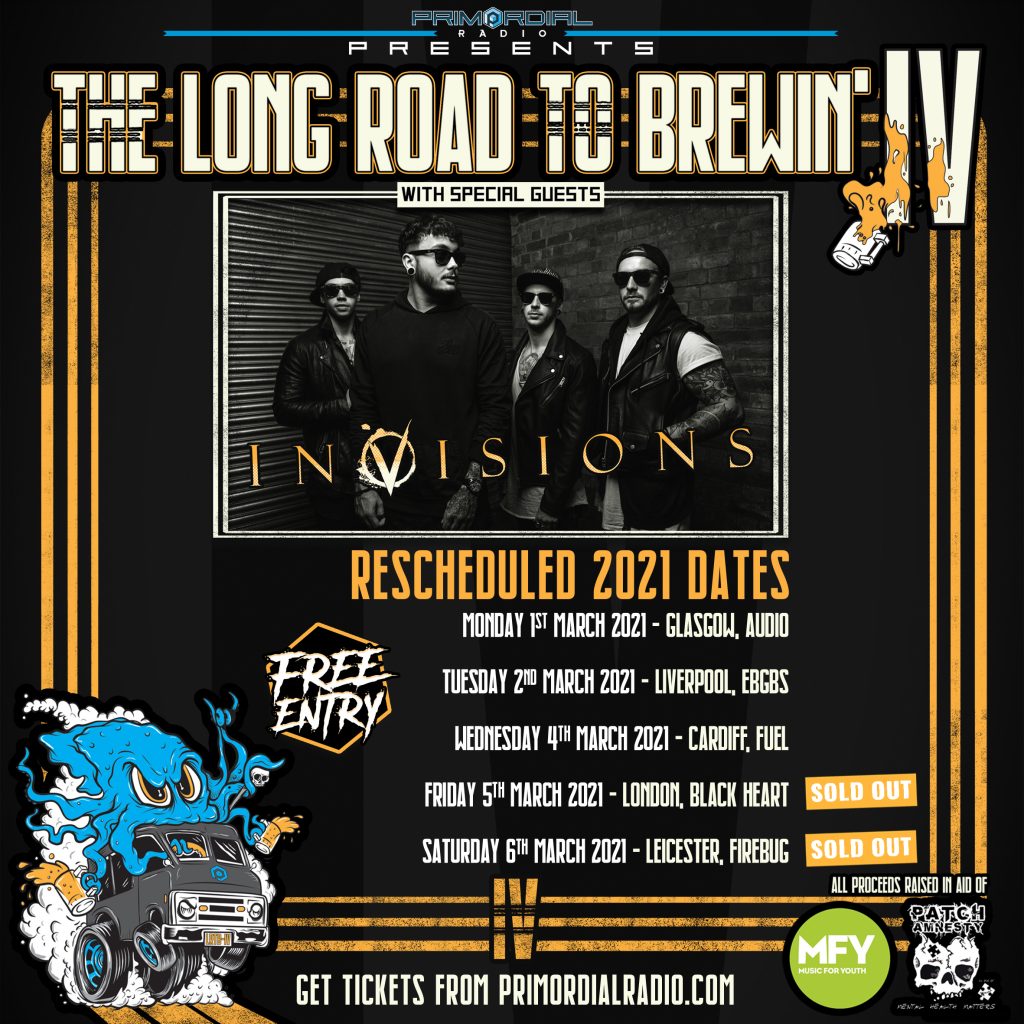 Updated 10am Monday 10th August 2020
Due to the ongoing situation in relation to the Coronavirus disease (COVID-19) we sadly had to postpone the fourth edition of the Long Road To Brewin' with InVisions that was due to take place in September 2020.
We are now very pleased to announce that these dates have been rescheduled for September 2021. All purchases for the original dates will be honoured and if you are unable to attend the new dates, you can find details on how to claim a refund below.
If you still need assistance, please email support@primordialradio.com
When will the Long Road To Brewin' be taking place?
March 2021
Monday 1st – Glasgow, Audio
Tuesday 2nd – Liverpool, EBGBS
Thursday 4th – Cardiff, Fuel
Friday 5th – Leicester, Firebug *Sold Out*
Saturday 6th – London, Black Heart *Sold Out*
Is my ticket still valid?
Your ticket remains valid and we will re-issue a new digital ticket for you once we have processed all refunds. Any old tickets for the March/September dates will be void.
Is the line-up still the same?
We're delighted that InVisions have re-confirmed for the tour and Dancing With Dakota & Sertraline are confirmed for Glasgow / Liverpool. We're waiting to hear on Nightlives & Thousand Thoughts
Are the locations the same? 
Yep the venues are the same but there is a change on which days of the week we'll be appearing at some venues, please check the above dates.
Are tickets now on sale?
Tickets are now back on sale for Glasgow, Liverpool and Cardiff. London & Leicester remain sold out but we will make any tickets available if we get refunds for these shows and announce accordingly. Tickets – https://primordialradio.com/invisionsbandtour
I can't make the new date; can I get a refund?
Yep, refunds are available at – https://primordialradio.com/lrtbrefund Please quote your order number. Refunds will take up to 14 days to process. As these are charity shows we know many have said they will not reclaim a refund which is amazing. We would just ask if that's the case and you still can't make the new dates when announced please let us know so we can re-allocate your ticket to someone who can make it.
Will it be safe to attend due to Coronavirus (COVID-19)?
Whilst the UK and other areas of the world are currently experiencing an increase in cases, it is expected for these to decrease later in the year and for events to be safe again soon. We will be monitoring the situation closely and following the guidelines of Public Health Officials.
Thank you for your continued support of Primordial Radio, without you we wouldn't be here, and we look forward to seeing you in March.
– The Primordial Radio Team
Long Road to Brewing IV is coming
November 2019
Primordial Radio is very proud to announce it will once again be going on the Long Road To Brewin'. The annual tour which started as a way to meet up with like-minded individuals who wanted to change the landscape of rock and metal radio in the UK will be returning in March 2020 with rising Metalcore newcomers INVISIONS. Having spawned to life in 2016 from the ashes of former local bands in their hometown of York, England, InVisions are driven by a collective ambition to create their own heavy-hitting yet anthemic sound that nods to old school thrash whilst retaining a fresh and modern perspective.
The five-date tour will be FREE ENTRY shows raising money for two incredible charities in Patch Amnesty & Music For Youth. Catch InVisions on the road with Primordial Radio in the following cities;
September 2020
Monday 14th – Glasgow (Audio) 16+
Venue Information
Support: Dancing With Dakota
Doors 7pm
Stage Times TBC
Tuesday 15th – Liverpool (EBGBS) 18+
Venue Information
Support: Sertraline
Doors 7pm
Stage Times TBC
Wednesday 16th – Cardiff (Fuel) 14+
Venue Information
Doors 7pm
Stage Times TBC
Friday 18th – Leicester (Firebug) 18+
Venue Information
Doors 7pm
Stage Times TBC
Saturday 19th – London (Black Heart) 18+
Venue Information
Doors 7pm
Stage Times TBC
• Charity donation required for free ticket
• Non-Primordial members receive 30-Day Free trial (no strings attached) as part of their ticket
• Various age ranges for shows, please check before booking