Primordial Radio adds Madball & Reef to the Save Our Venues All-Dayer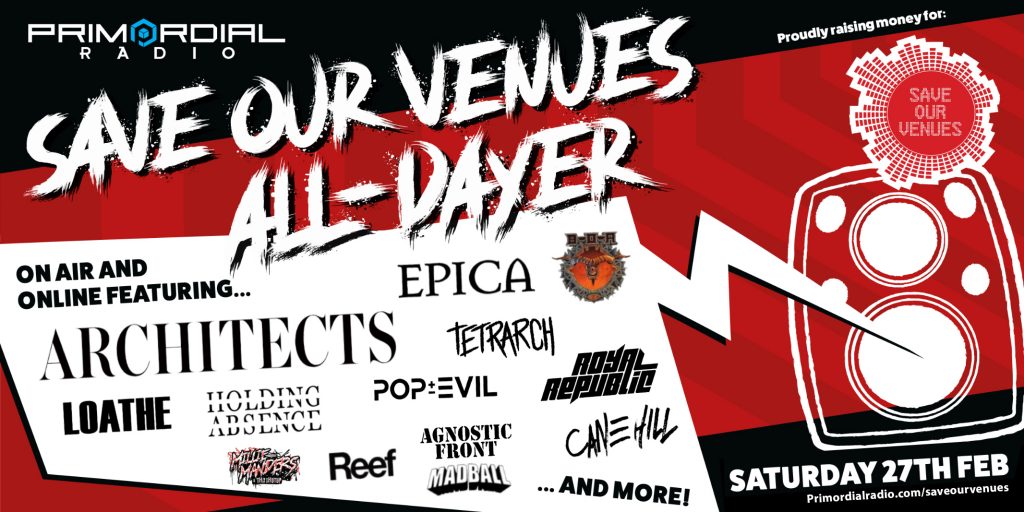 Primordial Radio is very excited to announce that it has added Madball & Reef to the Save Our Venues All-Dayer.
Having already confirmed Roger Miret of Agnostic Front for a live stream talking all about the early days of New York Hardcore, the importance of small venues to that scene and the impact it's had right up to this day.
We couldn't be happier to say that brother to Roger and legendary front-man Freddy Cricien of Madball will also be getting in on the stream to chat all things New York Hardcore! Watch live from 5pm GMT on Saturday 27th February with host John Moorby.
We're also delighted to announce that Glastonbury Rockers Reef will be joining the All-Dayer with a very special takeover show with The Blowfish. Bassist Jack Bessant and guitarist Jesse Wood will be chatting with The Blowfish about what they miss most about live gigs, how things are going with the new Reef album and have lined up the likes of AC/DC, Rage Against The Machine and Royal Blood to play on the show! Listen in from 12:00 (GMT).
There is also going to be a very special Moose V Mooby show!
Originally making his debut as a guest on One Word Wednesday Bingo, John Moorby impressed so much he got his own daily show on Primordial Radio! Tune in from 2pm (GMT) to hear Moose & Mooby have a good ol catch up whilst playing some ace tunes.
Radio takeovers will be on-air at Primordialradio.com with live streams being broadcast via Primordial Radio's Twitch and YouTube channels.
Full schedule available at – https://primordialradio.com/saveourvenues and donations will be open on the day at https://primordialradio.com/venues