Massive Wagons new album TRIGGERED! is out now via Earache Records. To celebrate the album's release, frontman Baz Mills will be playing the new album exclusively on Primordial Radio, playing every track from the album, and chatting with Primordial Presenter Moose about the inspirations, challenges and more behind the album.
The broadcast will start at 16:00 (BST) on Friday 28th October and will be available on-demand after the broadcast. Speaking about the new album frontman Baz explains how TRIGGERED! stands out compared to the band's previous albums:
I think this album is a lot more British sounding. I think we've managed to bring our sound more up-to-date, it sounds fresh and exciting. It has much more of a punk vibe about it, but, that being said, it's still full of everything we love about guitar music.

There are some very angry, passionate songs in there. We all dug really deep writing this one, some of them were a real labour of love. I think we truly have made our best album yet. I know that's a cliché, but our other albums felt like they had a foot in the previous one somehow, be it leftover songs, a certain sound or style… But I think this one stands alone as a unique-sounding Wagons album.
Get Primordial Premium
30 Days Free. No Auto-Renewal. No Credit Card Needed.
- 24/7 Rock & Metal Radio Station
- No Adverts
- Exclusive Merch & Discounts
- Exclusive Articles & Podcasts
- Thriving Community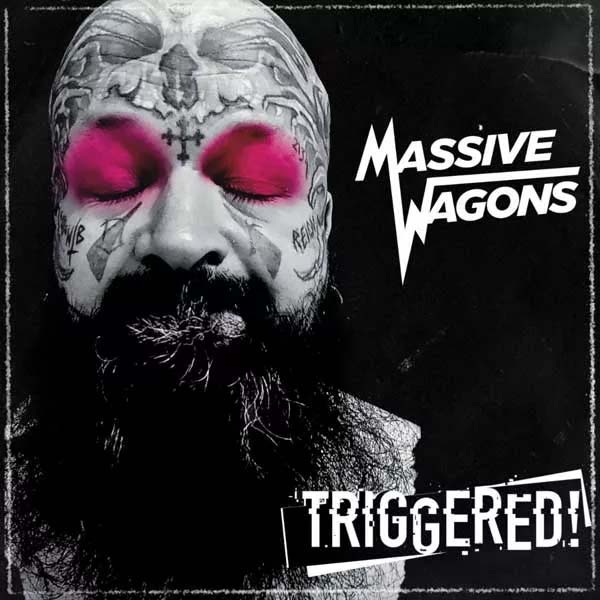 Massive Wagons: Triggered! tracklist
1. Fuck The Haters
2. Please Stay Calm
3. Generation Prime
4. A.S.S.H.O.L.E.
5. Skateboard
6. Gone Are The Days
7. Triggered
8. Giulia
9. Germ
10. Never Been A Problem
11. Big Time
12. Sawdust
13. No Friend Of Mine
Massive Wagons will be heading out on a co-headlining UK tour with Ugly Kid Joe.
Massive Wagons & Ugly Kid Joe Tickets
November 2022
03 – 02 Academy, Liverpool
04 – Rock City, Nottingham
06 – O2 Shepherds Bush Empire, London
08 – The Garage, Glasgow
10 – 02 Academy, Sheffield
11 – KK's Steel Mill, Wolverhampton
Primordial Radio is supported by the community we serve. When you buy through links on our site, we may earn an affiliate commission.
For our full list of affiliates, head here.
---
Massive Wagons initially built a strong early following in the north of England, blending together their love of rock'n'roll with an unfiltered sense of fun. Borne out of Adam Thistlethwaite and Baz Mills' time playing in a covers band, the pair recruited Adam's younger brother Alex and longtime friends Adam 'Bowzer' Bouskill and Carl Cochrane, setting about to write fast and frivolous heavy metal.
In 2020, the band released their second album House Of Noise through Earache Records and their fifth in total. The album was produced by Colin Richardson and Chris Clancy at Backstage Studio and went on to be a huge success, landing at No.9 on the Official UK Album Charts, propelling the band to huge tours with the likes of Thunder, Lynyrd Skynyrd and The Darkness.
We caught up with front-man Baz Mills at Download Festival 2022, watch below.