What "thing" can I do?
#DoOneThing
It doesn't matter what you do, and at the moment in these uncertain times, it can be hard to know where to start.
Whether you want to get help for yourself or help those around you the Mind website has lots of information, resources and support to help.
The 10th October marks World Mental Health Day, a suitable day to highlight some Mental Health information that you may find useful.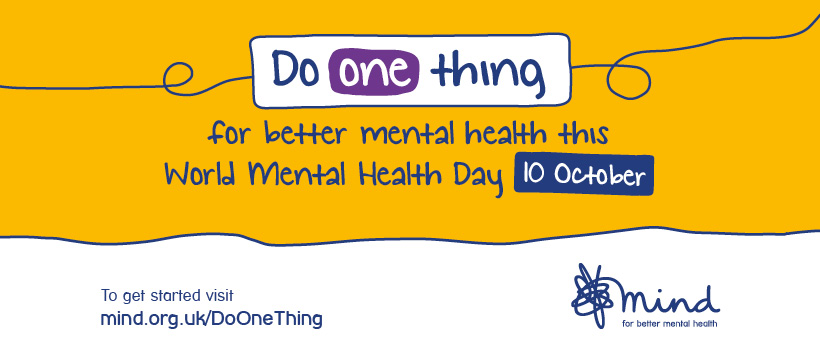 Our mental health can be improved by small improvements in different areas of our lives. Here are some of our suggestions.
If you are happy to share what you are doing whether it's one of these suggestions or one of your own, please share on socials so we can all encourage one another to #DoOneThing.
Food and mood – nutrition really helps your mental wellbeing so it is important to try to eat a balanced diet. Why not invest in one of our Blowfish approved cups to encourage you to drink some pints (of water!)?
Routine – it is incredibly hard at the moment to keep to any sort of routine but it really does help improve mental wellness. Try to keep to the same sleep pattern and if you are working from home try to start and finish at normal times, have a proper break for lunch and if it helps why not go for a walk at the beginning or end of your work day to mimic your commute? If you are not working it's even more important to try to have some form of routine to keep the head squirrels at bay.
Exercise – as above, some exercise even if it is only a short walk each day will boost your mental wellbeing as it releases endorphins and will help improve your mood. As the days get shorter and the weather gets cooler it's still important to do some exercise even if you have to stay indoors. And don't forget if you recently bought one – use your SAD lamp daily!
Connect and celebrate – Join Manchester Mind on the weekend of World Mental Health Day (10 and 11 October) for the Headstock Weekender. This music and wellbeing festival will be streamed over two days with live music, exclusive talks and wellbeing experiences to encourage conversations around mental health, all while raising vital funds for Manchester Mind and Help Musicians.
Find your balance with the Five Ways to Wellbeing – Connect (plenty of people to talk to within the Fam), Be Active (see above), Learn New Skills (think about something you have always wanted to do but never got the chance? Is there a Facebook group for it? Can you find like-minded individuals in the Fam to help?), Give (if someone you know is having a particularly difficult time at the minute, perhaps they have lost their job or are on furlough can you send them something to cheer them up? Don't forget our Sub-a-Sub scheme too), Take Notice (too many ideas here to list individually but a great way to improve your wellbeing is by being mindful and there are loads of apps and resources available to help you do this).
Champion workplace wellbeing – Manchester Mind offer a range of online live courses (including the internationally recognised Mental Health First Aid qualification) to help you build your knowledge, confidence and awareness about mental health to support yourself and your colleagues. PRFam members can access a 10% discount on all courses by quoting PRFAM10 when booking. Find out more.
Combating loneliness – during this difficult time of social distancing it is not surprising than many of us feel lonely. Aside from all the ideas listed above we all know that whilst social media can help us connect, too much social media can be bad for our wellbeing. So if social media is actually making you feel worse, why not take a break from it and binge watch Netflix, create some playlists for your new exercise regime or rearrange your vinyl collection?!
Reach out to someone you are worried about – if you haven't heard from someone for a while it can make a big difference just to reach out and ask them how they are doing. Not sure how to go about it? Manchester Mind has some tips to help.
Finally, if you are struggling and you feel like you need some help please speak to a friend, relative or contact your GP and find out what help is available.
If you need to talk to someone confidentially you can call National Mind on 0300 123 3393 (Monday to Friday 9am-6pm).
If you need crisis support the Samaritans offer a 24/7 service. You can call them on 116 123 (Freephone) or email jo@samaritans.org. You can also text SHOUT to 85258 for 24/7 text support.