More rock & metal in the system
Published in Primordial Radio Music News, on Tuesday, February 5th, 2019
Always keeping the radio playout system up to date with fresh rock and metal !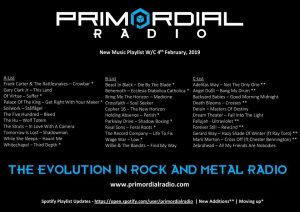 Seven killer new additions this week from
Adelitas Way – Not the Only One
Angel Du$t – Bang My Drum
Death Blooms- Crosses
Fallujah – Ultraviolet
Forever Still – Rew1nd
Gerard Way – Hazy Shade of Winter featuring Ray Toro
Mark Morton – Cross Off It featuring Chester Bennington
Did you know that as a Member of Primordial Radio YOU can help influence and shape the sound of Primordial Radio ?
Not a member of Primordial Radio ? Why not give it a go , free, for 3 months, no credit card/no obligation/no nonsense
Sign Up Here
Primordial Radio playing the best and latest in Rock, Metal and Beyond music – Radio as it should be !