Just when you thought there wasn't enough Master Of Puppets content in your life right now… Here comes a pop punk cover!
That's right, TikTok user 'prodbykala' has covered Metallica's Master Of Puppets in a pop-punk style that is sure to accelerate the heat death of the universe as the internet once again overwhelms itself with rage.
Watch below.
Metallica's 'Master of Puppets' has had a huge resurgence in popularity after it was included in the latest season of Netflix's Stranger Things, speaking to Chicago's Rock 95.5, drummer Lars Ulrich stated:
That whole thing is such a mindfuck, It's so difficult to fathom. Obviously, we've been following it, and obviously, Stranger Things have been an incredible phenomenon for years.

And the fact that it kind of came out of the blue just three months ago, six months ago – 'Master of Puppets' in the season end. We said of course! We were happy to participate.
Get Primordial Premium
30 Days Free. No Auto-Renewal. No Credit Card Needed.
– 24/7 Radio Station
– No Ad-Breaks
– Exclusive Discounts On Gigs & Merch
– On-Demand Shows & Podcasts
– Thriving Community
The recent resurgence of Master Of Puppet's also prompted Metallica to create an official video for the track, 36 years after its initial release. Watch below.
---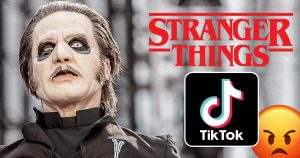 Links in this article may contain affiliate links where Primordial Radio receives a commission if you make a purchase through these links.
For our full list of affiliates, head here.