We're quite accustomed to rock & metal artists going more mainstream over time to expand their appeal and become more commercially successful. But very rarely, does this journey happen in reverse, step up pop-star Demi Lovato who has departed from their pop sound and dropped a heavy new rock single "Holy Fvck".
Lovato's musical journey started back in 2008 with the pop-rock debut album Don't Forget, followed by 2009's Here We Go Again, whilst these albums did incorporate aspects of rock music, Lovato soon transitioned their signature sound into pop and dance territory in the five most recent albums.
HOLY FVCK is slated to drop this summer. The album will be available to stream on Friday, August 19th, 2022 via Island Records. Speaking about the album Lovato stated to Rolling Stone:
The process of making this album has been the most fulfilling yet, and I'm grateful to my fans and collaborators for being on this journey with me.

Never have I been more sure of myself and my music, and this record speaks that for itself. To my Lovatics who have been rocking out with me since the beginning and those who are just now coming along for the ride, thank you.

This record is for you.
Listen below.
Get Primordial Premium
30 Days Free. No Auto-Renewal. No Credit Card Needed.
– 24/7 Radio Station
– No Ad-Breaks
– Exclusive Discounts On Gigs & Merch
– On-Demand Shows & Podcasts
– Thriving Community
---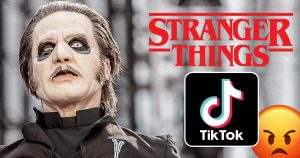 Links in this article may contain affiliate links where Primordial Radio receives a commission if you make a purchase through these links.
For our full list of affiliates, head here.