Lockdown All Dayer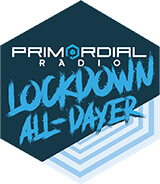 Welcome to the on-demand page for our LockDown All Dayer for NHS Charities Together which took place on Saturday 9th May 2020. We would like to say a HUGE thank you to everyone who donated and got involved on the day, we have currently raised over £7000 which is incredible. The donation page is still live so you can donate now.
---
On Demand
Get Primordial Premium
30 Days Free. No Auto-Renewal. No Credit Card Needed.
- 24/7 Radio Station
- No Ad-Breaks
- Exclusive Discounts On Gigs & Merch
- On-Demand Shows & Podcasts
- Thriving Community