Get ready to have your say! Primordial Radio is giving you the power to choose who will open up the Primordial Presents Stage on Saturday 29th April 2023 at KK's Steel Mill in Wolverhampton.
This is your chance to vote for your favourite band from the list below, To cast your vote, you will need to be a Primordial Radio member.
Not a member? No problem, simply sign up and join the community.
The poll is open until Friday 7th April at 20:00. The winning band will be announced on Monday 10th April.
With less than 200 tickets left, the PGM is set to be the biggest event in the history of Primordial Radio, join us for what is set to be a monumental day, grab your tickets now before they're sold out and get ready to experience a once-in-a-lifetime event to celebrate the power of music and community.
Vote For Your Fave Band
Get Primordial Premium
30 Days Free. No Auto-Renewal. No Credit Card Needed.
- 24/7 Rock & Metal Radio Station
- No Adverts
- Exclusive Merch & Discounts
- Exclusive Articles & Podcasts
- Thriving Community
Check Out The Bands
Adharma
Anchor Lane
Bad Llama
Confessions Of A Traitor
Crowley
Last Hounds
LaVire
Mississippi Riot
Sister Shotgun
Zebedy
---
Primordial General Mayhem 2023
Saturday 29th April 2023 – Main Event

Main Stage
Those Damn Crows (Headliner)
Mason Hill
Rews
South Of Salem
Led By Lanterns
Marisa And The Moths
Primordial Presents Stage
Insurgent
Fury
Raised By Wolves
Straight For The Sun
Friday 28th April 2023 – 200 Cap Pre-Party *Sold Out*
Scruffy Bear (Headliner)
Jøra The Førtuneteller
Wood & Nails
Fangs Out
Tickets are on sale now below.
Grab a 30-day free Primordial Membership to get 10% off.
You need to be signed in order to access the discounted tickets on this page.
Have a question about the PGM? Read our full FAQs.
---
Tickets
Discounted Ticket - Saturday 29th April (Main Event)

Grab 30 days free (No Auto-Renewal, No Credit Card Needed) and get 10% off tickets, access our radio station and much more.
General Sale Ticket (No Discount)
Saturday 29th April 2023, KK's Steel Mill, Wolverhampton, UK.
---
Posters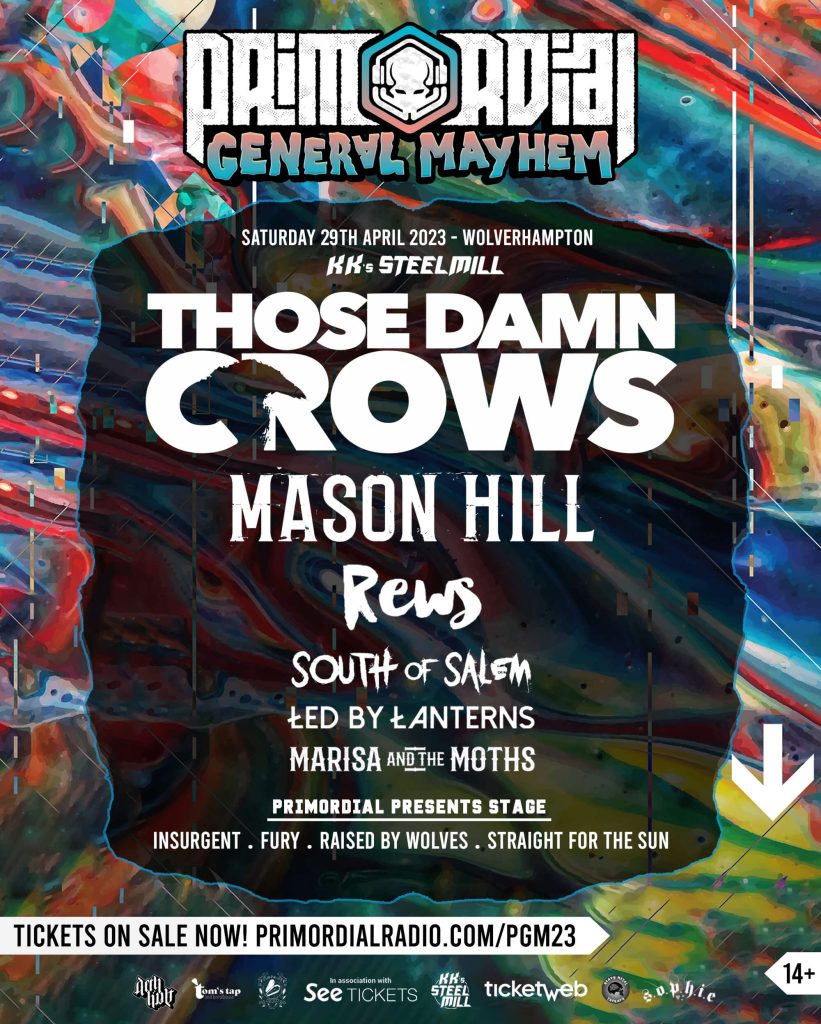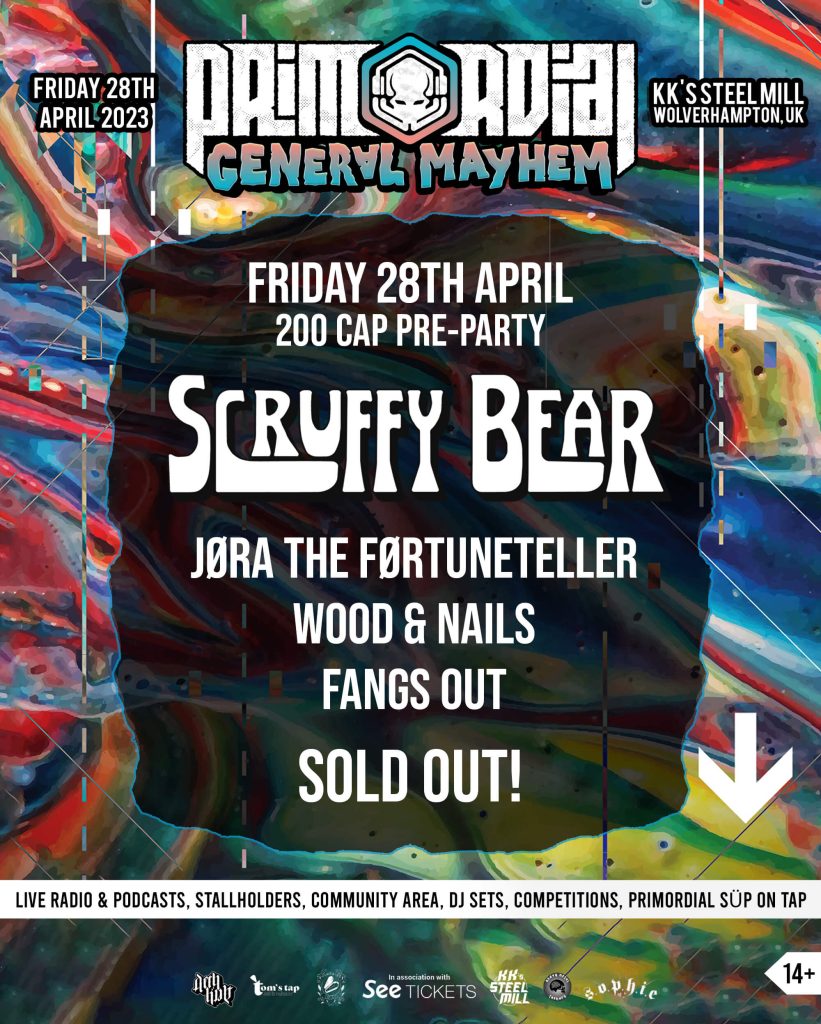 ---
Starting in 2018 as a one-day event with just three bands, the Primordial General Mayhem has become the destination event for Primordial Members and Rock & Metal fans alike.
Combining the power of music and community, the event has previously hosted the likes of Skindred, Devin Townsend, Bob Vylan, Massive Wagons and many more over the past four years with Knotfest describing it as a "Grand Spectacle of Rock Fury"
Now with a new home, the Primordial General Mayhem will be taking place at the illustrious KK's Steel Mill in Wolverhampton on Saturday 29th April 2023, with an additional intimate 200 cap pre-party also planned for Friday 28th April 2023.
Modern Rock's unstoppable force Those Damn Crows have been confirmed as headliners for Saturday 29th April 2023.
In between performing on the main stage at Download Festival 2022, selling out headline shows at the likes of Cardiff Castle, and playing German TV channel WDR's prestigious Rockpalast Crossroads festival, Those Damn Crows recorded 'Inhale/Exhale', an album that elevates their signature hard-hitting rock to dizzying heights
The Welsh quintet sadly had to pull out of headlining PGM 22 earlier this year due to vocalist Shane Greenhall injuring his back, this is very much unfinished business, and we can't wait for the guys to finally take to the stage and deliver what we know will be a humungous headline set.
Confirmed for the main stage on Saturday 29th April 2023 is Glaswegian modern rockers Mason Hill. Recorded at Riverside Studios with Scott Taylor, their 2021 album Against The Wall is an acknowledgement of the struggles the band has had to overcome, resulting in one of the most hard-hitting and engaging debut albums to emerge from the British rock scene in recent years.
Also appearing is alt-rock force Rews, following the success of their debut album 'Pyro' and sophomore 'Warriors' the band went on to tour extensively across the globe, including supporting the likes of Halestorm and The Darkness, as well as critically acclaimed performances at festivals such as Glastonbury, 2000 Trees and many more.
Hard rock/metallers South Of Salem are set to return after to the PGM after an incredible set in 2021.
Full to the brim with bouncy hooks, heavy riffs and soaring vocals, Led By Lanterns also join the bill and one of the hottest unsigned rock acts in the UK right now, Marisa & The Moths will also be appearing, their debut self-titled LP hit #66 in the Official Downloads Chart and has amassed hundreds of thousands of streams globally.
Insurgent, Fury, Raised By Wolves and Straight For The Sun will also be taking up slots on the Primordial Presents stage.
In addition, confirmed for the Friday night 200-cap pre-party (Sold Out) is Jøra The Førtuneteller, Wood & Nails and Fangs Out who will be supporting soulful fuzz rockers Scruffy Bear.
Speaking about the Primordial General Mayhem 2023, Music Director Pete Bailey states:
We looked at many different options for a new PGM home, but couldn't be happier to be working with KK's Steel Mill. They have built a tremendous reputation in a very short space of time, with many of our members feeding back about how good the venue is.

We also couldn't be happier to have Those Damn Crows booked to headline, we were naturally gutted when they had to pull out for 2022, but what a moment it will be when they finally take to the stage in 2023 alongside such an incredible bill that truly showcases the incredible quality of artists we have in the UK!

See you in April \ .. /