Primordial Presents Live Edinburgh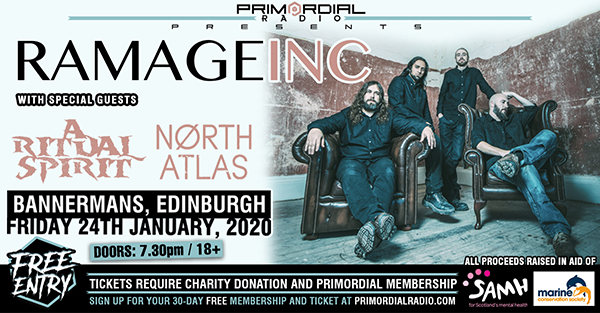 Primordial Radio is very proud to announce it will be holding a FREE charity show for the Scottish Association for Mental Health and The Marine Conservation Society. The show due to take place on Friday 24th January at Bannermans, Edinburgh will be headlined by RAMAGE INC. Ramage Inc are a progressive metal band from Scotland who have earned a place as one of Europe's must-see acts. With three accomplished albums under their belt, they have played on some of the world's most sought-after stages including ProgPower Europe, Download and Bloodstock UK. The brainchild of producer, vocalist and guitarist Bryan Ramage, the band deliver sophisticated metal with power and passion.
Support will be coming from A RITUAL SPIRIT who have been playing on the UK live circuit since 2011 including slots at Bloodstock Open Air Festival, Wildfire Festival and Out of the Ashes Festival, plus numerous tours of the country's small and medium-sized venues. Support will also come from NORTH ATLAS an alternative rock trio; the band of brothers combine their contrasting influences to defy the traditional sensibilities of a rock n' roll band. Joining forces with award-winning rock producer Dan Weller their new single 'South' is set to be their strongest release to date.
Charity donation required for free ticket
Non-Primordial members receive 30-Day Free trial (no strings attached) as part of their ticket
Scottish Association for Mental Health
Around since 1923, SAMH is Scotland's national mental health charity. Today, in over 60 communities we work with adults and young people providing mental health social care support, services in primary care, schools and further education, among others. These services together with our national programme work in See Me, respect me, suicide prevention and active living; inform our policy and campaign work to influence positive social change.
The Marine Conservation Society
The Marine Conservation Society (MCS) grew from the hard work and forward-thinking of a great number of people, many of whom still actively support us today.
There was a growing awareness about the state of our seas in the early 1970s, especially amongst scientists and SCUBA divers, who devised Underwater Conservation Year 1977.
This event was especially championed by the late Bernard Eaton, together with eminent scientists and public figures including HRH The Prince of Wales, who continues his unwavering support for MCS as our President today. The event gave momentum to form the Underwater Conservation Society, with a single paid project officer (firstly Dr Charles Sheppard then, for many years, Dr Bob Earll). The name "Marine Conservation Society" was officially adopted and registered with the Charity Commission in 1983.
Since that time, MCS has achieved major successes in protecting special wildlife, tackling sewage problems, helping the seafood-buying public, and influencing Government and industry.
Bannermans, Edinburgh
https://www.bannermanslive.co.uk/
Bannermans is a bar and venue located in the heart of historic Edinburgh. With live music six nights of the week, featuring the best in local, national and international bands, it's reputation as one of the busiest venues in town is well deserved. But that's not all – with over 100 whisky's to chose from, guest real ales each week, drink promotions every day, hot food served till 10pm, 8 TV's showing the latest sports, free pool and darts, and more besides, why not come down for yourself and see why so many folk keep coming back…