---
Info & FAQ's
Stage Times – Friday & Saturday (Click on picture for hi-res version)
The Primordial General Mayhem is BACK for 2022! Here is the lowdown on what to expect across the weekend.
Please find below our stage times and schedules for Friday 22nd & Saturday 23rd April 2022.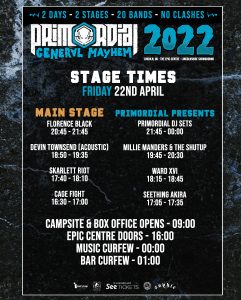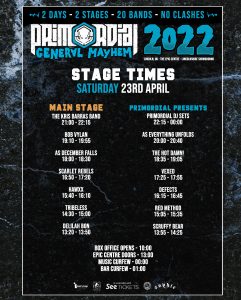 Tickets – Your digital ticket will be sent to the email address you purchased via SeeTickets, simply bring a copy of your ticket, either on your phone or a printout and we will scan your ticket at the Box Office Upon Arrival.
Haven't bought a ticket yet? Weekend & Day Tickets are on sale – Here
For ticket support contact SeeTickets.
Site Map (Click on picture for hi-res version)
Venue Address & Arrival
*PLEASE NOTE*
Ticket holders will need to arrive through GATE 4 & GATE 5 and head towards the BOX OFFICE at SITE ENTRANCE F and SITE ENTRANCE G.

GATE 4 – Weekend (No Camping), Day Tickets, Campervans, Just Rock Up, Disabled Camping, Press & Guests.

GATE 5 – Weekend + Camping
Box Office hours are 09:00 – 21:00 on Friday and 10:00 – 21:00 on Saturday.
Address:
The Epic Centre
Lincolnshire Showground
Grange-de-Lings
Lincoln
LN2 2NA
Taxi's
Please find below the recommended taxi firms, we also recommend booking your journey 24 hours in advance and please make sure your cab driver is aware you need to be dropped off and picked up at GATE 4 – SITE ENTRANCE F. 
Direct Cars
T: 01522 567 567 | W: https://www.directcars-lincoln.co.uk/
Handsome Cabs
T: 01522 545 352 | W: http://www.handsomecabs.co.uk
Taxis Lincoln (Online Booking Service / Directory)
W: https://www.taxislincoln.co.uk/
The Lincolnite Taxi List
https://thelincolnite.co.uk/taxi-lincoln/
Bar
Our good friends at Tom's Tap & Brewhouse are back for the General Mayhem and Brewmeister Sean Ayling assures us he will be bringing the best batch of Primordial Süp that has ever been made… In addition to Tom's Tap & Brewhouse, we're very happy to say that Ascension Cider will also be with us again, remember to go easy on those Mango Ciders!
We're also very excited to announce that the click & collect service will be running again.
How does this work?
Step 1 – Set up a Good Eats account – Here
Step 2 – Head to the PGM Drinks Menu – Here
Step 3 – Place your order
Step 4 – Check your email for confirmation, receipt, and order no.
Step 5 – Show your email at the collection point, take your drinks, and enjoy 😊
*PLEASE NOTE* We will be running a challenge 25 policy, so if you're lucky enough to look under 25, we will be asking you for I.D at the collection point to prove you are 18+.
Food Vendors
We're delighted to have a variety of high-quality food vendors at the PGM this year who will be keeping us fed and energized, please find their details below.
Junk Soul Smothered – Veggie & Vegan Junk Food
Will Also Be Offering Veggie & Vegan Breakfast
Firehouse Kebab & Grill – Breakfast, Coffee, Burgers & Chips etc
Sunshine Street Food Company – Caribbean Food
Veggie Options Available
Oakley's Grill – Burgers, Pizza, Breakfast Baps
Veggie & Gluten-Free Ingredient Options Available
VW Crepes – Crepes, Jacket Potatoes, Slushies & More
Veggie Options Available
Chez Sebastian Artisan Pizzas – Pizzas
Veggie Options Available
Bails Barista– Coffees, Hot Chocolates & Sweet Treats
Stallholders
We love them and think you will love them too! We're very pleased to welcome our stallholders to the PGM this year.
The Sophie Lancaster Foundation
Sophie Lancaster was a young woman who was murdered for being different. She and her boyfriend were creative, artistic people who dressed in their own unique way. They were attacked by a gang of five boys in a park in Bacup, Lancashire on 11 August 2007. The gang attacked Sophie's boyfriend first and then turned on her, carrying out a brutal and sustained attack. Sophie remained in hospital for 13 days, before following medical advice, the family agreed to life support being switched off. Sophie died on 24 August 2007; she was just 20 years old.
The Sophie Lancaster Foundation was established as a lasting legacy to a beautiful life cut short by violence. The Foundation's mission to stamp out prejudice hatred and intolerance everywhere can be summed up in one word – S.O.P.H.I.E.
Heavy Metal Therapy
Heavy metal therapy is an online resource and community of people who find metal music helpful for mental well-being. It is a place to find and share experiences of how metal has helped us, the meaning we take from songs or lyrics, and playlists that we have found useful.
Alleway's Confectionary
Vegan confectioners based in Digbeth, Birmingham. Offering vegan sweets & treats across the UK including a wide range of gluten-free options.
Festival Fantasy
Festival Fantasy offers a range of festival accessories including bucket hats, top hats and bowlers with steampunk goggles, light up hair flower crowns, leather wristbands, festival jackets and pants, bandanas, anklets & necklaces.
Voodoo Clothing
Alternative clothing for the rock and metal community.
Press & Media
If you would like to cover the General Mayhem for your Blog, YouTube Channel or anything else, we'd love to have you there! Simply contact Pete Bailey for accreditation.
Covid-19
In line with the latest Government Guidance, and with tests no longer being freely available, we will not be operating a COVID 19 entry policy. There will be no requirement from attendees for proof of Covid status, but we strongly advise all attendees to take a lateral flow test before attending to minimize risk as much as possible.
To help keep the Primordial General Mayhem as safe as possible, we will be implementing these measures:
• Increased ventilation across the whole venue
• Regular check-ins with all staff to make sure they are well and not displaying symptoms
• Hand sanitizing stations throughout the site and backstage areas for all public and staff
• Regular cleaning of toilets, bars, work services, sides, and merch area
• Encourage card payments over cash
• Use of single-use cups, plates, and cutlery only
• Disposable face masks available on site
• Regular waste disposal and cleaning
FAQ's
For all other FAQ's please click – Here
Thank you for reading this information, we can't wait to see you and have an incredible weekend!
Support
If you still need assistance, please head to primordialradio.com/support.
– The Primordial Radio Team