Primordial Playlist updates – 12th December 2018
Published in Primordial Radio Music News, on Wednesday, December 12th, 2018
Whether you're dining in Whamhalla or still playing Whamaggadon, fear not – Primordial Radio has your back !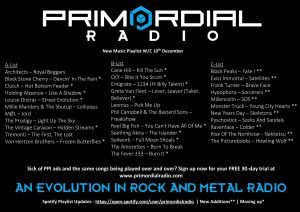 This weeks update to the playout system features these HUGE new tunes from
Black Peak – Fate I
Exist Immortal – Satellites
Hypophora – Sorcerers
Millencolin – SOS
Monster Truck – Young City Hearts
New Years Day – Skeletons
Ravenface – Colder
Rise Of The Northstar – Nekketsu
The Picturebooks – Howling Wolf
Did you know that as a Member of Primordial Radio YOU can help influence and shape the sound of Primordial Radio ?
Not a member of Primordial Radio ? Why not give it a go , free, for 3 months, no credit card/no obligation/no nonsense
Sign Up Here
Primordial Radio playing the best and latest in Rock, Metal and Beyond music – Radio as it should be !