Primordial Playlist updates – 1st January 2019
Published in Primordial Radio Music News, on Thursday, January 3rd, 2019
First Primordial Playlist update for 2019 !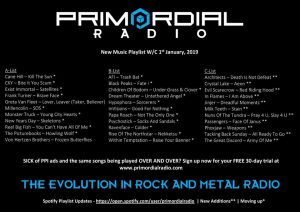 Starting 2019 right with ELEVEN HUGE new tunes hitting the Primordial Radio Playout system featuring tracks from :
Architects – Death is not  defeat
Crystal Lake – Aeon
Evil Scarecrow – Red Riding Hood
In Flames – I am above
Jinjer – Dreadful moments
Milk Teeth – Stain
Nuns of the Tundra – Pray 4 U, Slay 4 U
Passengers – Face of Janus
Phoxjaw – Weapons
Taking Back Sunday – All ready to go
The Great Discord – Army of me
Did you know that as a Member of Primordial Radio YOU can help influence and shape the sound of Primordial Radio ?
Not a member of Primordial Radio ? Why not give it a go , free, for 3 months, no credit card/no obligation/no nonsense
Sign Up Here
Primordial Radio playing the best and latest in Rock, Metal and Beyond music – Radio as it should be !