Free Rock and Metal Charity Show
Primordial Radio is very proud to announce it will be holding a FREE charity show for Manchester Mind and Maria & Jon Field's Heavy Metal Truants Ride.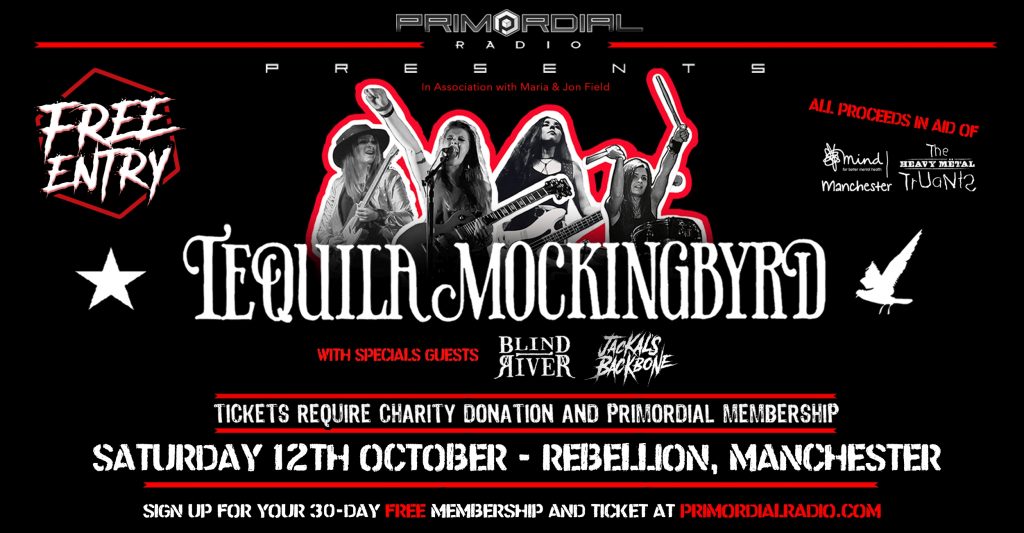 The show due to take place on Saturday 12th October 2019 at Rebellion, Manchester will be headlined by Tequila Mockingbyrd, purveyors of high caliber, exuberant, rock music that is packed with catchy riffs, searing melodies and guaranteed to bring a smile to your face.
Support will be coming from Blind River who have recently made a huge impact playing at the likes of Desertfest, Bloodstock and opening for Grand Magus. Jackals Backbone will also be joining the bill with their mix of Sludge and Death Metal combined with the melodic sensibilities of Trad and Thrash Metal. More support acts TBC.
From Primordial Radio's Music Director; Pete Bailey –
"After the huge success of the first Primordial Presents back in June I genuinely couldn't wait to get the next one up and running! When it became clear myself and Maria & Jon were talking to the same bands it made complete sense to join forces to raise money for the incredible Manchester Mind & Heavy Metal Truants via their ride. To have Tequila Mockinbyrd, Blind River, Jackals Backbone and more tbc is going to be IMMENSE! See you on the 12th October
Free ticket here
• Charity donation and Primordial membership required
• Non-Primordial members can grab a free ticket by signing up for a 30-Day Free membership here
Editor Notes :
Primordial Radio is a crowd-funded premium rock and metal radio station that gives members a service free from regulation and reflective of a true rock and metal environment. In 2017, Moose, Dewsbury, Pete Bailey and Engineer Mark said, "Fuck that" and decided to flip the existing radio model on its head and went on to successfully raise £150,000 from the rock and metal community to launch the station and now have over 1800+ members.
Manchester Mind is a local, independent mental health charity, affiliated to the national charity Mind.
Manchester Mind's vision is of a city that promotes good mental health and that treats people with mental health issues positively, fairly and with respect.
Manchester Mind raises its own funds each year to deliver mental health services in the local community.
Manchester Mind works hard to keep support services available to 6,500 young people and adults each year, which is why your support is so important to us.
PRfam members Maria & Jon Field are taking part in The Heavy Metal Truants 2020.
The Heavy Metal Truants are a charity cycling group co-founded by Metal Hammer's former editor- in-chief Alexander Milas and legendary Iron Maiden manager Rod Smallwood. In 2012, Rod Smallwood invited Alexander Milas on one of his now infamous charity cycle rides, this one through the foothills of the Atlas Mountains in Morocco in some truly blistering heat. When the returned back to the UK tired, but pleased with their efforts, the idea of a charity heavy metal cycle ride to Donington, the home place of Download Festival, was born.
The Heavy Metal Truants support Nordoff Robbins, Teenage Cancer Trust, and Childline.
Founded in 2013, Rebellion is a 400+ capacity live music venue situated in the heart of Manchester City Centre. Offering a home for alternative music from around the Globe, you can expect to hear anything from Rock'N'Roll to Hip Hop, Punk to Funk, Indie to Heavy Metal – there is something for everyone.