Primordial Radio Playlist – 20th August Music Updates – with added Rock and Metal !
Published in Primordial Radio Music News, Station Updates, on Monday, August 20th, 2018
Boom ! Hot off the keyboard, here is this weeks Primordial Radio playlist update featuring HUGE new tunes from
Bad Wolves ft Diamante – Hear me now
Behemoth – God=Dog
Disturbed – Are you ready ?
Hypophora – Spires
Monster Truck – Evolution
Soulfly- Evil Empowered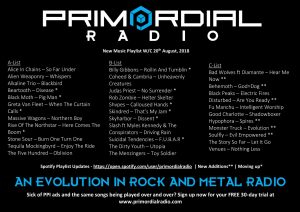 Primordial Radio – bringing your the best, latest and upcoming in rock and metal music !
Not a member of Primordial Radio ? Why not give it a go , free, for 3 months, no credit card/no obligation/no nonsense
Sign Up Here
Primordial Radio playing the best and latest in Rock, Metal and Beyond music – Radio as it should be !