Primordial Radio Playlist – 20th November Updates – More rock and metal in the system !
Published in Primordial Radio Music News, Station Updates, on Tuesday, November 20th, 2018
One of the big things at Primordial Radio is that our music playlists are never sitting still, they are always evolving !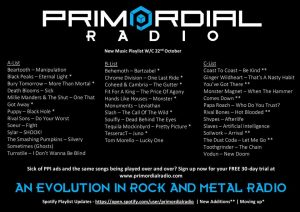 Pete has been busy with getting the latest killer tracks into the Primordial Playout System, featuring :
Architects – Royal Beggars
Emigrate – 1234 (featuring Billy Talent)
Leontas – Pick Me Up
Millie Manders and The Shutup – Lollipops
Phil Campbell and the Bastard Sons – Freakshow
Fever 333 – Burn It
The Vintage Caravan – Hidden Streams
 Tremonti – The First, The Last
Did you know that as a Member of Primordial Radio YOU can help influence and shape the sound of Primordial Radio ?
Not a member of Primordial Radio ? Try us for free for 1 month! No Card Details Needed. No Obligation. No Nonsense. Primordial Radio - Rock. Metal. Community
Sign Up Here