Primordial Radio Playlist – 24th September Music Updates – now with more Rock and Metal !
Published in #prfam, Primordial Radio Music News, Station Updates, on Monday, September 24th, 2018
Pete has been a busy little bee and has updated the Primordial Playlist with even more music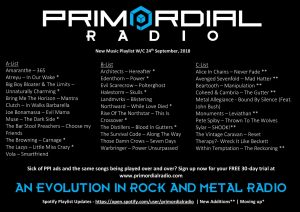 This weeks playlist update features AWESOME new tunes from
Alice in Chains – Never Fade
Avenged Sevenfold -Mad Hatter
Beartooth – Manipulation
Coheed and Cambria – The Gutter
Monuments – Leviathon
Sylar – SHOOK!
Within Temptation- The Reckoning
Primordial Radio – bringing your the best, latest and upcoming in rock and metal music !
Not a member of Primordial Radio ? Why not give it a go , free, for 3 months, no credit card/no obligation/no nonsense
Sign Up Here
Primordial Radio playing the best and latest in Rock, Metal and Beyond music – Radio as it should be !