Primordial Radio Playlist – 26th November Updates – more new music
Published in Primordial Radio Music News, Station Updates, on Wednesday, November 28th, 2018
2018 has been such a great year for new music and it continues with even more  new tracks added to the Primordial Radio Playout system !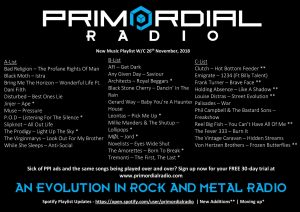 Featuring the latest releases from :
Clutch – Hot Bottom Feeder
Frank Turner – Brave Face
Holding Absence – Like a Shadow
Louise Distras – Street Evolution
Reel Big Fish – You can't have all of me
Von Hertzen Brothers – Frozen Butterflies
Did you know that as a Member of Primordial Radio YOU can help influence and shape the sound of Primordial Radio ?
Not a member of Primordial Radio ? Why not give it a go , free, for 3 months, no credit card/no obligation/no nonsense
Sign Up Here
Primordial Radio playing the best and latest in Rock, Metal and Beyond music – Radio as it should be !