Primordial Radio Playlist – 27th August Updates – blues to thrash, rock to metal and everything in between
Published in #prfam, Primordial Radio Music News, Station Updates, on Monday, August 27th, 2018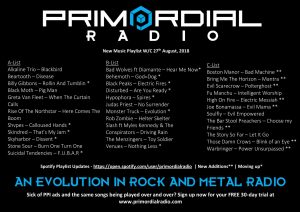 From blues to thrash, rock to metal and everything in between, this week's Primordial Radio playlist features killer new additions from
Boston Manor – Bad Machine
Bring me the Horizon – Mantra
Evil Scarecrow – Pholterghost
High on Fire – Electric Messiah
Joe Bonamassa – Evil Mama
The Bar Stool Preachers  – Choose My Friends
Those Damn Crows – Blink of an Eye
Warbringer – Power Unsurpassed
Primordial Radio – bringing your the best, latest and upcoming in rock and metal music !
Not a member of Primordial Radio ? Why not give it a go , free, for 30 days, no credit card/no obligation/no nonsense
Sign Up Here
Primordial Radio playing the best and latest in Rock, Metal and Beyond music – Radio as it should be !