Primordial Radio Playlist – 30th October Updates – our music list always evolves !
Published in Primordial Radio Music News, Station Updates, on Tuesday, October 30th, 2018
One of the big things at Primordial Radio is that our music playlists are never sitting still, they are always evolving !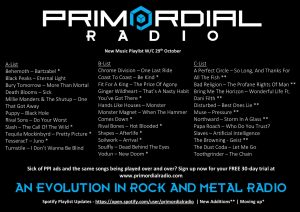 Seven new awesome additions this week to the Primordial Radio playlist – featuring :
A Perfect Circle –  So long, and thanks for all the fish
Bad Religion – The Profane Rights of Man
Bring me the Horizon – Wonderful Life (featuring Dani Filth)
Disturbed – Best Ones Lie
Muse – Pressure
Northward – Storm in a Glass
The Browning – Geist
Did you know that as a Member of Primordial Radio YOU can help influence and shape the sound of Primordial Radio ?
Not a member of Primordial Radio ? Try us for free for 1 month! No Card Details Needed. No Obligation. No Nonsense. Primordial Radio - Rock. Metal. Community
Sign Up Here