Primordial Radio Playlist – 3rd-December Updates
Published in Primordial Radio Music News, on Tuesday, December 4th, 2018
It may be December, but no Christmas tracks have been added in this weeks playlist update !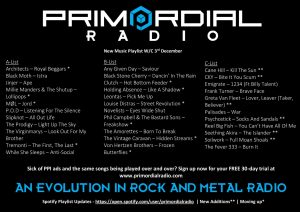 It's the most wonderful time for new music… with these massive tunes added this week featuring :
Cane Hill – Kill the Sun
CKY – Bite it you scum
Greta Van Fleet – Lover, Leaver (Taker, Believer)
Psychostick – Socks and Sandals
Seething Akira – The Islander
Soilwork – Full Moan Shoals
Not a member of Primordial Radio ? Why not give it a go , free, for 3 months, no credit card/no obligation/no nonsense
Sign Up Here
Primordial Radio playing the best and latest in Rock, Metal and Beyond music – Radio as it should be !