Primordial Radio Playlist – 3rd September Music Updates – now with more Rock and Metal !
Published in #prfam, Primordial Radio Music News, Station Updates, on Monday, September 3rd, 2018
More you say ? Ok, since you asked nicely here are the latest additions to the Primordial Radio Playlist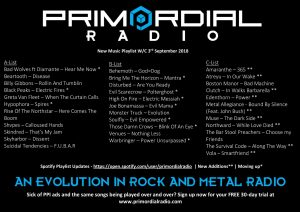 The new additions this week feature stonkingly good tunes from
Amaranthe – 365
Atreyu – In our Wake
Clutch – In walks Barbarella
Edenthorn – Power
Metal Allegiance – Bound by Silence
Muse – The Dark Side
Northward – While Love Died
The Survival Code – Along the Way
Vola – Smartfriend
Primordial Radio – bringing your the best, latest and upcoming in rock and metal music !
Not a member of Primordial Radio ? Try us for free for 1 month! No Card Details Needed. No Obligation. No Nonsense. Primordial Radio - Rock. Metal. Community
Sign Up Here