Primordial Radio Playlist – 6th November Updates – More rock and metal in the system !
Published in Primordial Radio Music News, Station Updates, on Tuesday, November 6th, 2018
One of the big things at Primordial Radio is that our music playlists are never sitting still, they are always evolving !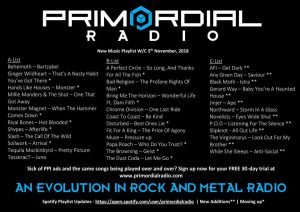 Massive update this to the Primordial Radio playout system this week,  with 10, yes 10 new tracks from
AFI – Get Dark
Any Given Day – Saviour
Black Moth- Istra
Gerard Way- Baby you're a haunted house
Jinjer – Ape
Novelist – Eyes wide shut
P.O.D.- Listening for the silence
Slipknot- All out Life
The Virginmarys – Look out for my brother
While She Sleeps – Anti-social
Did you know that as a Member of Primordial Radio YOU can help influence and shape the sound of Primordial Radio ?
Not a member of Primordial Radio ? Try us for free for 1 month! No Card Details Needed. No Obligation. No Nonsense. Primordial Radio - Rock. Metal. Community
Sign Up Here