Primordial Radio talks with The Von Hertzen Brothers
Published in Station Updates, on Wednesday, November 21st, 2018
On Thursday 22nd Novemeber at 4:30pm Dewsbury will be having a chat with the Von Hertzen Brothers !
Currently in the interview there is news about their latest album"War Is Over", tour preperation and "on stage brain fades" which causes songs to be shorter than they should be!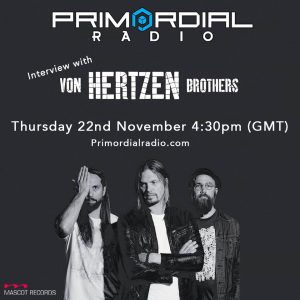 Not a member of Primordial Radio ? Why not give it a go , free, for 3 months, no credit card/no obligation/no nonsense
Sign Up Here
Primordial Radio playing the best and latest in Rock, Metal and Beyond music – Radio as it should be !