Primordial Presents Live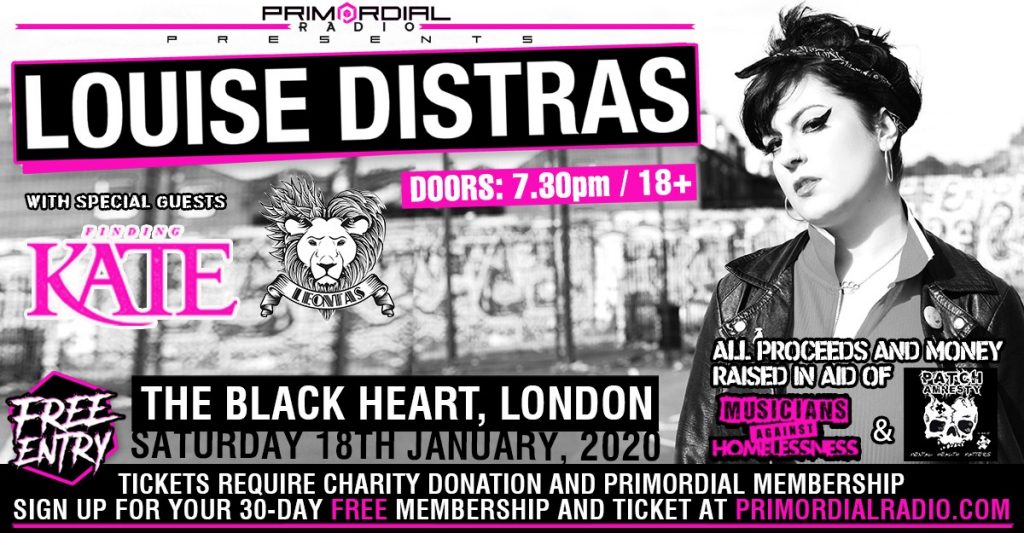 Primordial Radio is very proud to announce it will be holding a FREE charity show for Musicians Against Homelessness and Patch Amnesty. The show due to take place on Saturday 18th January at The Black Heart, London will be headlined by LOUISE DISTRAS. Having herself been homeless in her teenage years, living with strangers in dangerous situations and being taken advantage of as a vulnerable young person, her firsthand experience of the transformative power of music in helping her rebuild her life informs her work, and inspires her passion to work with Musicians Against Homelessness.
Support will be coming from FINDING KATE, a versatile and powerful voice with dark, emotional undertones which shine through at her shows and LEONTAS, a rock duo formed in London consisting of singer and guitarist Alex Munteanu and drummer Scott Collier renowned for bringing energetic, dynamic and loud performances on the local scene.
Charity donation required for free ticket
Non-Primordial members receive 30-Day Free trial (no strings attached) as part of their ticket
Musicians Against Homelessness
https://www.facebook.com/mahgigs/
Musicians Against Homelessness is an initiative set up by Emma Rule in 2016 with a twofold aim: to raise money for the homeless and to help young musicians to get gigs and exposure for their music.
Patch Amnesty
https://www.facebook.com/PatchAmnesty/
Patch Amnesty is the brainchild of PRfam member Michael Lacy. Michael collects unwanted patches and sells them at events to raise money for mental health charities. If you have any patches you wish to donate to his cause, please feel free to bring them along. You may even find a selection of patches to add to your battle jacket, so say hello to Michael on the night and grab a patch as all sales go towards a wonderful charitable cause.
The Black Heart, London
Hidden in the middle of Camden, Our Black Heart is a Music Pub with an edge. Say goodbye to spit and sawdust served with a flat beer and get into amazing beer and live music. We are a strictly 18+ venue, please tell your Mum to stop emailing us.