Primordial Presents Live
Primordial Radio is very proud to announce it will be holding a FREE show for Manchester Mind and The Sophie Lancaster Foundation. The show due to take place on Saturday 29th June 2019 at Rebellion, Manchester will be headlined by Those Damn Crows, one of the fastest rising new rock bands in the UK. Support will be coming from Ravenface who recently returned after a five-year break with their new album 'Breathe Again' hitting number 2 in the iTunes Rock Charts. Support also comes from As Sirens Fall; an eye-catching alt-rock outfit based out of West Yorkshire, England, known for their bombastic live shows and die-hard fanbase and 2018 Bloodstock Metal 2 The Masses winners Sertraline.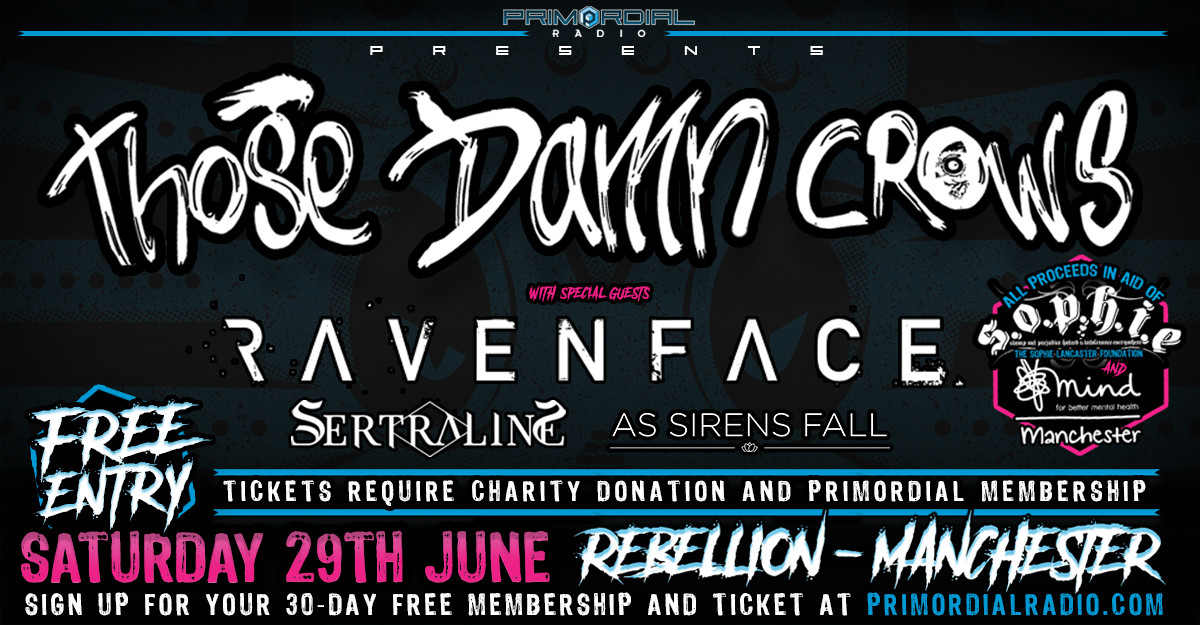 Tickets for Primordial Presents Live are only available to subscribers and unfortunately it looks like you haven't signed up yet. Don't worry it is easy to do, just click on the button below.
Once you have signed up you don't only get access to tickets you can also enjoy the following:
Access to presented shows 7am - 9pm Monday - Friday, 9am - 2pm on Saturday and 9am - 3pm on Sunday. View our schedule to see who is on.
Access to member exclusive podcasts.
10% off in our merch store