Reading & Leeds Festival, one of the largest music festivals in the United Kingdom, has made its first announcement for 2023 and the lineup very obviously features barely any rock, metal or heavy music.
The festival, which takes place from the 25th-27th of August 2023, has been around for more than 20 years and built its name by featuring some of the biggest names in rock music.
This year, however, as it stands… things will be different, with Sam Fender, The Killers, Imagine Dragons and Billie Eilish taking up the headline slots, with the likes of Steve Lacy, Loyle Carner, Lewis Capaldi and more appearing across the weekend.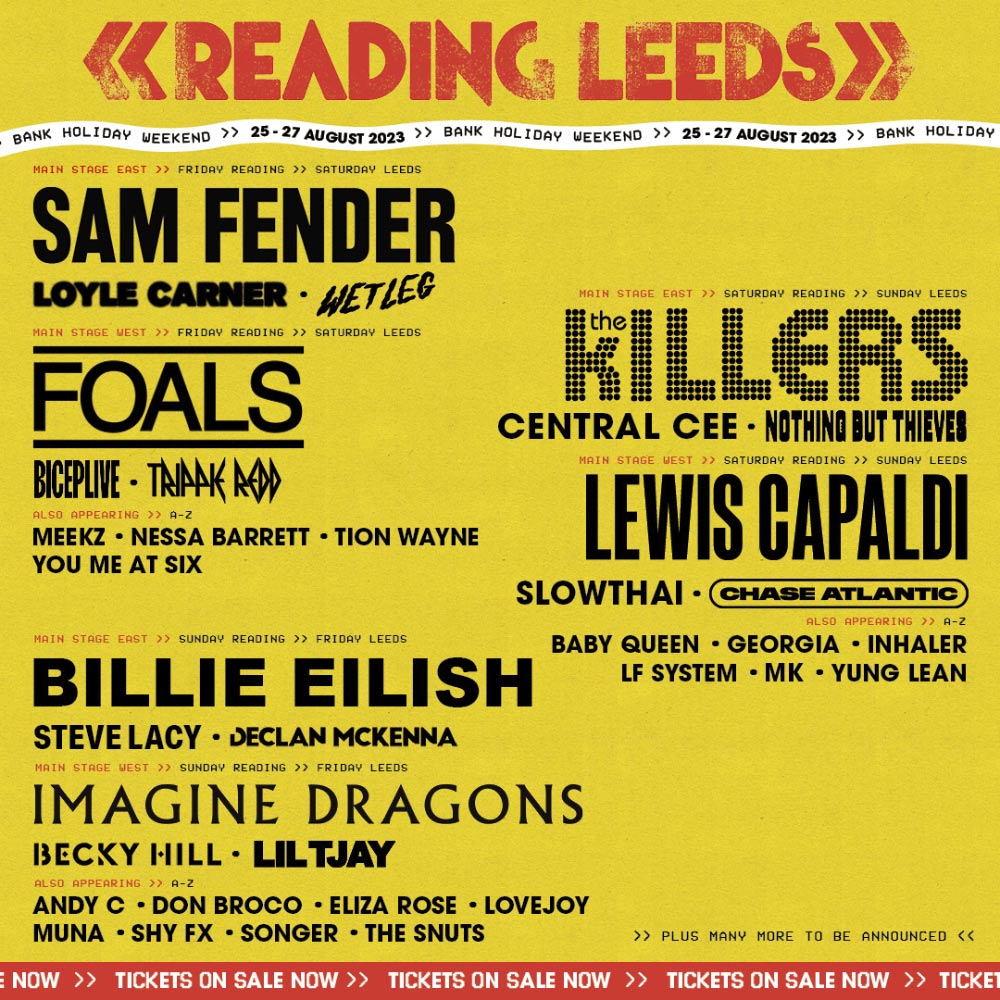 Get Primordial Premium
30 Days Free. No Auto-Renewal. No Credit Card Needed.
- 24/7 Rock & Metal Radio Station
- No Ad-Breaks
- Exclusive Discounts On Gigs & Merch
- On-Demand Shows & Podcasts
- Thriving Community
Whilst the full bill has yet to be announced, this first announcement has sparked a lot of debate in the music industry and rock fans alike. There are those who argue this is a sign that rock music is no longer relevant to mainstream culture, whilst many rock fans would argue, being a part of the mainstream, is exactly the opposite of what they want and has no bearing on the genre and its overall health.
The term "rock" is a very broad church that can encompass the likes of The Killers and Sam Fender, but there's no denying, the festival very clearly now has a focus on other genres such as Pop, Hip-Hop, EDM, Grime and more.
With the likes of Download Festival, Bloodstock Open Air, Slam Dunk, 2000 Trees, Arctangent and many more all putting together stellar lineups, does this even matter anymore? Is it important for rock and metal to be a part of Reading & Leeds to grow as a genre?
Your thoughts:
Horrible line up, haven't been for a few years now

It's either a rock festival or not at all. tbh not at all rather than a mix is better, cause wanna be roadmen and alt folks don't mix well.

You know you've buggered a lineup when you include Wet Leg 💀 Bloodstock 2023 for me!

It's a bad thing, I was at 22 and fucking hell the lineup was amazing. You had a wide range from BMTH to Arctic Monkeys then to Megan The Stallion all headlining. Also, you had other bands like Fever 333, Wargasm and All Time Low there who are on the heavy side. I think what I loved about it was the wide range of artists from different genres. This is good because it helps other people get into different genres so it helps different people find new loves. This year is now just all one similar genre, pop and rap. Sure you have Sam Tender and The Killers that are kinda rock but I don't think it's a good lineup at all. But hey my guilty pleasure Billie Eilish is there…

They are pandering to what they think is popular to today's younger audience, personally, I think this lineup is a bloody mess, but as stated in the video you've got so many alternatives now, it's fundamentally why trees became a festival.
Regardless of which side of the debate you stand on, it's clear Reading & Leeds Festival has decided to go in a different direction which marks an important moment for heavy music.
As rock and metal fans, all we can do is support the bands we love, but do we need bands to break into the mainstream or can we survive on our own?
Let us know in our poll below.

Loading ...