RoadRage 2019 and Primordial Radio
Sheffield's Rock and Motorbike Festival on Sun 21st April 2019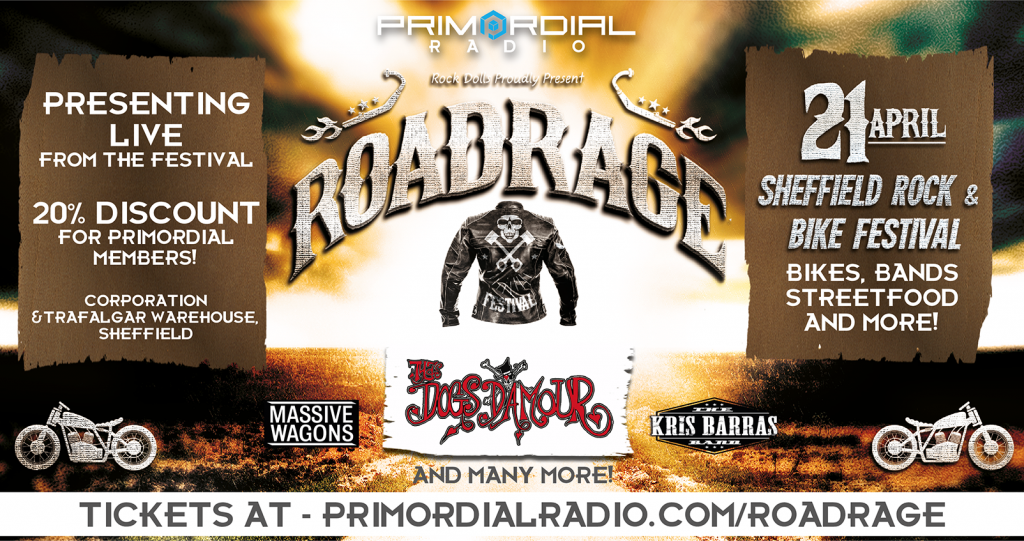 Primordial Radio has joined forces with the inaugural Roadrage Festival and will provide coverage from Sheffield's celebration of rock and motorbikes Easter weekend with Dogs D'Amour and Massive Wagons among the superb musical line-up    The event ties in with Sheffield's Egg Run, an annual charity ride, and will feature one of kind custom builds, a bike market and kick ass rock and roll, all of which will be indoors.
Road Rage Festival is the first indoor Rock and Bike festival in Sheffield city centre. Shake off the winter blues and head down to this multi venue experience!
There's a huge line-up of custom & specialist bikes, live music, stalls, bars, talks and lounges, followed by the rock and blues club nights.
On the music front, there is an outstanding line up featuring
Tyla's Dogs D'amour
Massive Wagons
Kris Barras Band
The Rising Souls
Silverjet
Lowdrive
The Dukes of Bordello
The Black hands
Coyote Mad Seeds
This State of Ours
Baranovich
and more to be announced
Hugh "Moose" Evans, Primordial Radio's CEO said "The second we heard about Roadrage we knew we had to be there.  Clearly a day of rock and bikes is of interest to our members but what really excited us was the idea and the people behind it.  They were frustrated by the way things were being done and decided to do it themselves. We get that."

Roadrage's organiser Shona Munro sums it up nicely, "Bands, Bikes, Blues and Rock..what's not to like?  With a heavyweight line up of the loudest rock bands and a spectacular showcase of bikes dust off your leathers and get yourself down to Sheffield's first ever Roadrage Festival."
Notes to Editors:
Contact: Hugh Evans moose@primordialradio.com 07761 960 161
Roadrage Festival April 21st at Trafalgar Warehouse and Corporation in Sheffield
Contact: Shone Munro roadragefestival2018@gmail.com
Not seeing a discount code ? Sign up to Primordial Radio, free for 30 days, and come back to this page to see discount codes for the Roadrage Festival 2019 !