Self-Isolation InkQuizition Registration
Published in Gigs & Events, on Friday, March 27th, 2020
Are you ready to take the Self-Isolation InkQuizition?!?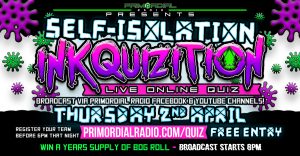 Register your team email below to take part.
The entry form will be emailed through to you on the day of the InkQuizition
Not a member of Primordial Radio ? Why not give it a go , free, for 3 months, no credit card/no obligation/no nonsense
Sign Up Here
Primordial Radio playing the best and latest in Rock, Metal and Beyond music – Radio as it should be !