Primordial Radio is proud to announce that Bournemouth-based hard rock/metallers South Of Salem will be taking part in the next Radio Residency.
Hosted by presenter Adam Whalley, the Radio Residency will air every Wednesday with Joey and Cody joining Adam to play tracks from their latest album The Sinner Takes It All alongside some of their all-time favourite songs.
---
Listen To The South Of Salem Residency
To listen, tune into Primordialradio.com on Wednesday 5th, 12th, 19th and 26th of April 2023 from 10:00am (BST).
If you miss any of the shows they will be available to listen to again shortly after the broadcast here.
Get Primordial Premium
30 Days Free. No Auto-Renewal. No Credit Card Needed.
- 24/7 Rock & Metal Radio Station
- No Adverts
- Exclusive Merch & Discounts
- Exclusive Articles & Podcasts
- Thriving Community
---
South Of Salem has dedicated almost a decade to creating exceptional music, and they have shared the stage with several famous names such as The Damned, Wednesday 13, and Iced Earth. They wanted to create something new, which led them to work with the legendary producer, Scott Atkins (known for Cradle Of Filth, Sylosis, Amon Amarth, and Behemoth) on their latest album The Sinner Takes It All.
The band's debut single demonstrated a considerable improvement from their previous work, combining elements from British Heavy Metal and U.S. Hard Rock while remaining unique, with catchy hooks, intense solos, and a never-ending attitude. The band played an incredible set at the PGM in 2021 and has toured with some prominent names since such as Wednesday 13 and WASP.
Get ready to experience an unforgettable set as the guys make their triumphant return to the Primordial General Mayhem 2023!
---
Primordial General Mayhem 2023 Lineup
Saturday 29th April 2023 – Main Event

Main Stage
Those Damn Crows (Headliner)
Mason Hill
Rews
South Of Salem
Led By Lanterns
Marisa & The Moths
Primordial Presents Stage
Insurgent
Fury
Raised By Wolves
Straight For The Sun
Friday 28th April 2023 – 200 Cap Pre-Party *Sold Out*
Scruffy Bear (Headliner)
Jøra The Førtuneteller
Wood & Nails
Fangs Out
Tickets are on sale now below.
Grab a 30-day free Primordial Membership to get 10% off.
You need to be signed in order to access the discounted tickets on this page.
Have a question about the PGM? Read our full FAQs.
---
Tickets
Discounted Ticket - Saturday 29th April (Main Event)

Grab 30 days free (No Auto-Renewal, No Credit Card Needed) and get 10% off tickets, access our radio station and much more.
General Sale Ticket (No Discount)
Saturday 29th April 2023, KK's Steel Mill, Wolverhampton, UK.
---
Poster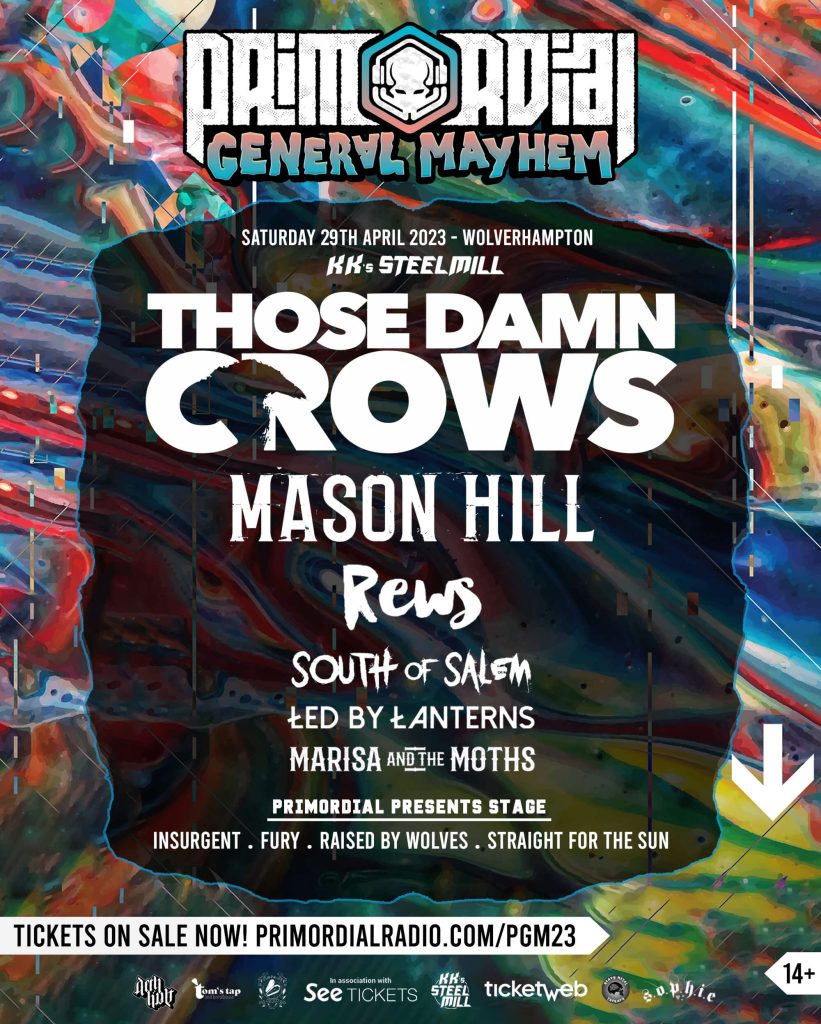 We may earn an affiliate commission when you buy through links on our site. This helps support the station. For our full list of affiliates, head here