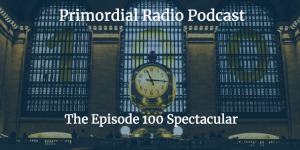 Spectacular isn't the word. No really, it isn't.
Moose and Dews decided to celebrate the 100th Primordial Radio podcast by going to the pub. Oh God. Gods. Whatever.
Not gonna lie. I'm publishing this podcast at 03:00, and I'm quite drunk. There's probably something interesting in here. Tell me what blue smells like.
I think we talked about perfume adverts containing J-Law and a sweaty Keira Knightly. That's as close as we get to clickbait. You won't believe number 7 #GFY