Listen to Modern Rock's unstoppable force Those Damn Crows play their new album Inhale/Exhale in full exclusively on Primordial Radio.
Vocalist Shane Greenhall recently joined Pete Bailey on Friday 17th February to play through and chat about every track on the new album out now. Listen below.
Those Damn Crows Inhale/Exhale
Released 17th February 2023 via Earache Records.
Speaking about the new album Shane Greenhall states:
Inhale/Exhale is a real combination of both Crows albums to date, but with a real sense of production elevating and evolving what we've done on past Crows records.

No matter what song you decide to play, whether it's one of the many hard hitting songs or a softer piano-based song, there's something there in the distance, lingering, a sonic sense of connection, if you will. I'm not sure that we've had that on our other records.
Get Primordial Premium
30 Days Free. No Auto-Renewal. No Credit Card Needed.
- 24/7 Rock & Metal Radio Station
- No Adverts
- Exclusive Merch & Discounts
- Exclusive Articles & Podcasts
- Thriving Community
Listen To Those Damn Crows Inhale/Exhale Album In Full
---
Those Damn Crows are also set to headline the Primordial General Mayhem 2023 on Saturday 29th April at KK's Steel Mill. The Welsh quintet sadly had to pull out of headlining PGM 22 due to vocalist Shane Greenhall injuring his back, so this is very much unfinished business.
Support on the day comes from Mason Hill, Rews, South Of Salem, Led By Lanterns, Marisa & The Moths, Fury and more. Tickets on sale now.
Primordial General Mayhem 2023
Headliners – Those Damn Crows + Mason Hall, Rews, South Of Salem and more!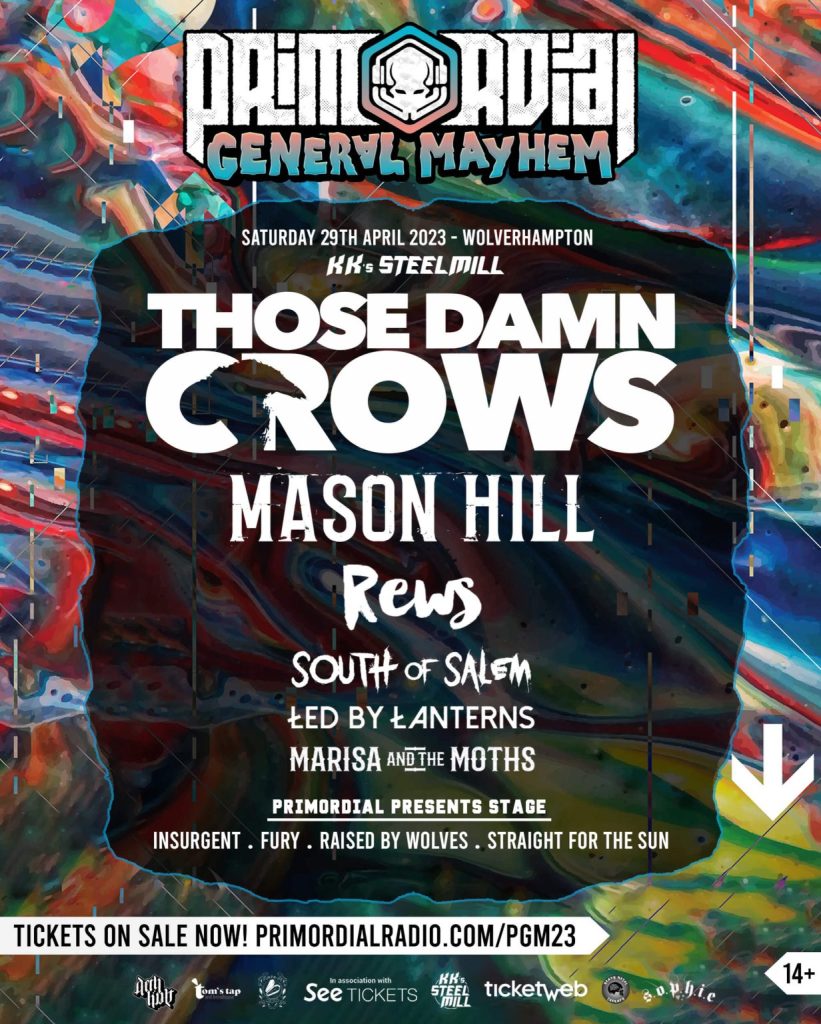 We may earn an affiliate commission when you buy through links on our site. This helps support the station. For our full list of affiliates, head here.