Welsh modern rockers Those Damn Crows have released a brand new song and announced details of their new album 'Inhale/Exhale', which will be released on 17th February 2023 via Earache Records.
The band's previous album 'Point Of No Return' landed in at No.14 on the Official UK Album Charts and also received Bridgend Mayor's Annual Citizenship Award in recognition of bringing their hometown community together via their popular weekly videocast CrowCast.
Earlier this year, Those Damn Crows performed on the main stage at Download Festival 2022, sold out headline shows at the likes of Cardiff Castle, and played German TV channel WDR's prestigious Rockpalast Crossroads festival.
Speaking about the new album, frontman Shane Greenhall states:

Inhale/Exhale is a real combination of both Crows albums to date, but with a real sense of production elevating and evolving what we've done on past Crows records.

No matter what song you decide to play, whether it's one of the many hard-hitting songs or a softer piano-based song, there's something there in the distance, lingering, a sonic sense of connection, if you will. I'm not sure that we've had that on our other records.

The album is talking openly and honestly about how we react as individuals to our life's surroundings and experiences. Have you ever noticed when you experience an emotion that your breath changes? We all must learn how to breathe in certain scenarios.

Anxiety, stress, mental health issues, and our learned behavioural patterns dictate how we live our lives and the choices we make. We can very quickly fall and spiral and focus into a sense of unknowing, triggered by insecurities. But life is all about the unknowing – it's literally the essence of life and what makes it so precious.

We're all guilty of looking forward and focusing on the 'bigger picture' scenario sometimes. But when life throws you a curve ball and temporarily places you into panic mode, that's when we learn the most about ourselves: to be present and think small, to focus and think about what we CAN control… our breathing!

How we respond is sometimes more important than how we react in those unpredictable scenarios. We can all breathe, but how we breathe and the manner in which we inhale, exhale can literally change how we feel in that moment.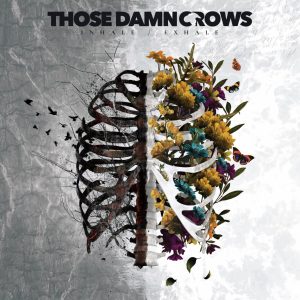 Inhale/Exhale Tracklisting:
1. Fill The Void
2. Takedown
3. Man On Fire
4. Wake Up (Sleepwalker)
5. This Time I'm Ready
6. I Am
7. See You Again
8. Lay It All On Me
9. Find A Way
10. Waiting For Me
Watch the video for the new Those Damn Crows track Wake Up (Sleepwalker) below.
Get Primordial Premium
30 Days Free. No Auto-Renewal. No Credit Card Needed.
- 24/7 Rock & Metal Radio Station
- No Adverts
- Exclusive Merch & Discounts
- Exclusive Articles & Podcasts
- Thriving Community
Those Damn Crows will join Monster Truck on their UK tour across September and October 2022.
Grab Your Tickets To See Monster Truck & Those Damn Crows
September 2022
29 – The Booking Hall, Dover
30 – KK's Steel Mill, Wolverhampton
October 2022
02 – O2 Academy, Oxford
05 – O2 Ritz, Manchester
06 – The Garage, Glasgow
07 – Riverside, Newcastle
10 – Cambridge Junction, Cambridge
11 – O2 Shepherd's Bush Empire, London
12 – Concorde 2, Brighton
15 – Solus, Cardiff University Students' Union, Cardiff
16 – The Corporation, Sheffield
17 – Rock City, Nottingham
Primordial Radio presenter Pete Bailey was recently a guest earlier this year on the CrowCast Podcast with Ronnie Huxford & Shane Greenhall from Those Damn Crows.
If you missed the live broadcast, you can watch it back below.
---