US metallers Trivium will be taking a short break from their UK tour, to play their latest album In The Court Of The Dragon exclusively on Primordial Radio.
Bassist Paolo Gregoletto chats with Primordial Radio Presenter Pete Bailey as they go through, play and talk about every track from the new album.
Speaking about In The Court Of The Dragon, Gregoletto stated:
When we were initially writing some of the lyrics and songs I guess you could say there was similar elements to Shogun; having the solid foundations that were based on these myths and that sort of thing.

I suggested that we just threw out the idea of having to stick to any one mythology that's been written before and make up our own mythology instead.

That's where we went with it and it was nice because then you're not as worried about sticking to historical accuracy and that sort of thing.

We could just let it free flow and that was a nice thing to do, especially with having so much time. There was really no rush to hurry up and get things done. Even though we did basically start the record right after we released What The Dead Men Say.

It was a fun thing to do and the title comes from a book called The King In Yellow by Robert W. Chambers. We took the title and ran in a different direction with the whole thing.

The overall yellow theme helped with a lot of the visuals and a lot of the first videos when we were working with everyone, putting it together.
Listen To Trivium's In The Court Of The Dragon with Paolo Gregoletto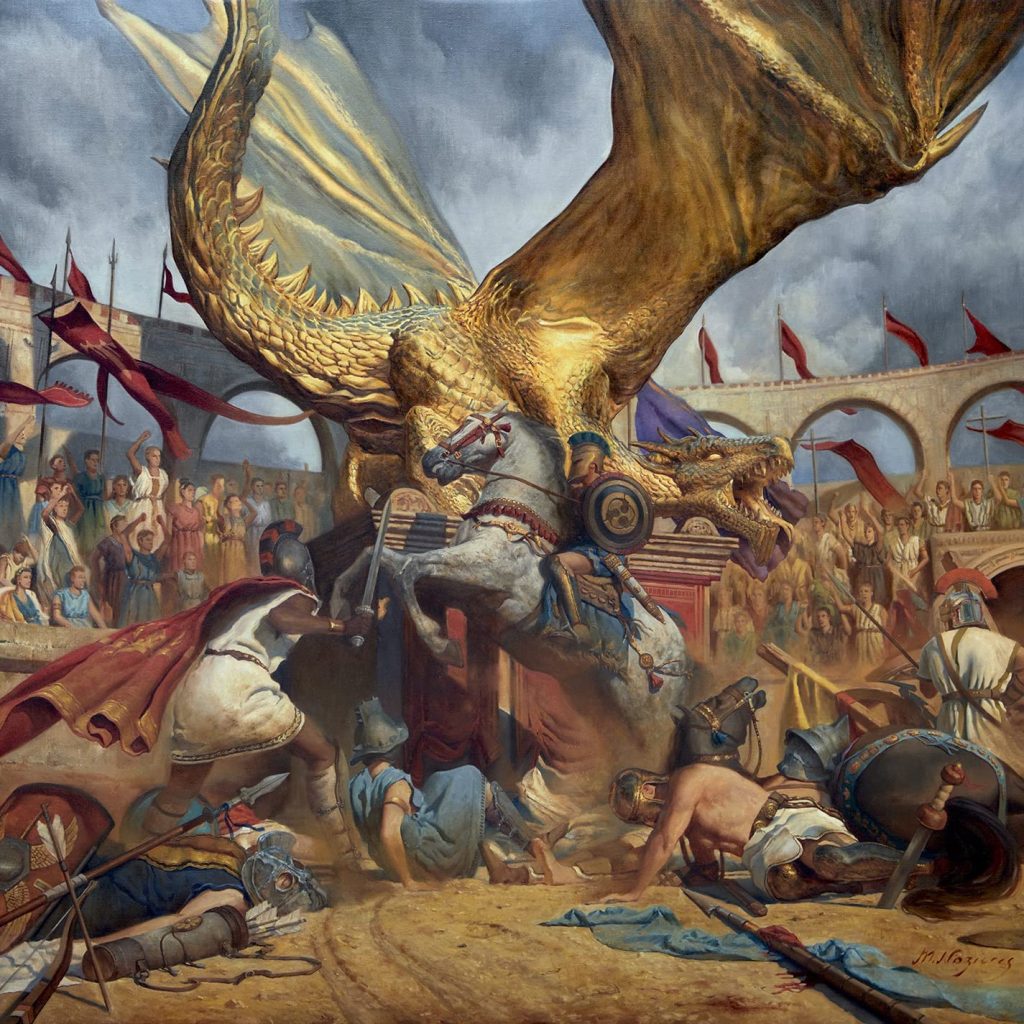 In the Court of the Dragon was released on October 8th 2021 via Roadrunner Records. The album was produced by Grammy-nominated producer Josh Wilbur and received huge praise from fans and critics alike.
Dom Lawson from Blabbermouth.net gave the album 8.5 out of 10 and said: Having stayed the course, Trivium are justifiably brimming with confidence on In the Court of the Dragon.
Trivium are currently on a UK & Ireland tour, tour dates and tickets are available below.
Trivium UK & Ireland Tour Tickets
Support from Heaven Shall Burn + Malevolence
January 2023
07 – Helix – Dublin (Sold Out)
08 – Helix – Dublin
09 – Belfast – Ulster Hall
12 – Glasgow – 02 Academy
13 – Birmingham – 02 Academy (Sold Out)
14 – Manchester – Victoria Warehouse (Sold Out)
15 – London – Eventim Hammersmith Apollo
Get Primordial Premium
30 Days Free. No Auto-Renewal. No Credit Card Needed.
- 24/7 Rock & Metal Radio Station
- No Adverts
- Exclusive Merch & Discounts
- Exclusive Articles & Podcasts
- Thriving Community
We may earn an affiliate commission when you buy through links on our site. This helps support the station. For our full list of affiliates, head here.