Update complete – new tunes in the system !
Published in Primordial Radio Music News, on Tuesday, January 29th, 2019
Pete has been feeding the Primordial Radio Playout system again !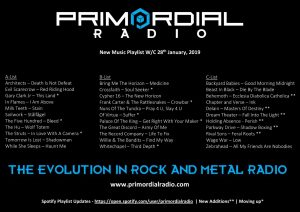 The latest additions to the ever growing rock and metal radio playout system include :
Behemoth – Ecclesia Diabolica Catholica
Delain – Masters of Destiny
Dream Theater – Fall into the light
Holding Absence – Perish
Parkway Drive – Shadow Boxing
Rival Sons – Feral Roots
Did you know that as a Member of Primordial Radio YOU can help influence and shape the sound of Primordial Radio ?
Not a member of Primordial Radio ? Try us for free for 1 month! No Card Details Needed. No Obligation. No Nonsense. Primordial Radio - Rock. Metal. Community
Sign Up Here